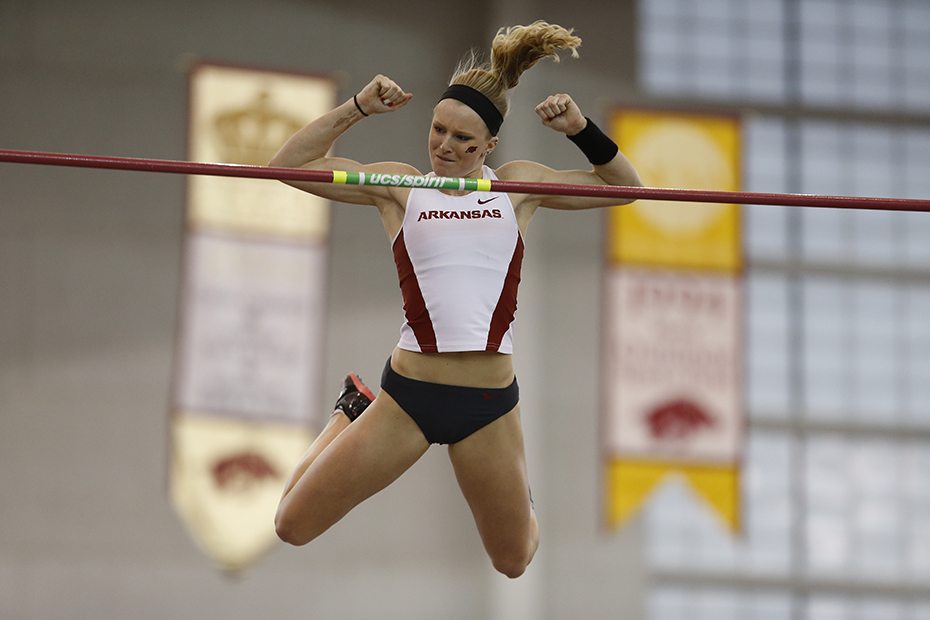 Morris Named a Semifinalist for The Bowerman Trophy
FAYETTEVILLE, Ark. – Arkansas senior pole vaulter Sandi Morris has been named as one of 10 women's semifinalist for the Bowerman Award which recognizes the top male and female athletes in track and field, announced Tuesday by the USTFCCCA. Morris emerged as one of the top vaulters in the world during her senior season with titles at the NCAA Indoor Championships and both SEC Championships, winning 13 of 16 competitions on the year.
Morris is the program's second semifinalist since the award's debut in 2009, joining five-time All-American pole vaulter Tina Sutej who went on to be Arkansas' first finalist in 2011.
Three women's finalists will be named on July 9. Voting will follow the selection of finalists opening up for fan participation on July 27 through August 11. The finalist with the most votes for The Bowerman will receive three points toward her final total. The winner will be announced in December at the annual USTFCCCA convention in San Antonio.
Entering the 2015 indoor season with a prior best clearance of 4.43m/14-6.25, Morris vaulted into history during the second meet of the season clearing 4.61m/15-1.5 to break the collegiate record and Sutej's program record of 4.55m/14-11. Only one of five women to clear the height of 15 feet, Morris achieved the feat four more times during the season, securing an NCAA title and four of the top-10 performances in collegiate history with a career-best indoor clearance of 4.66m/15-3.5.
Opening the outdoor season with a victory at the Clyde Littlefield Texas Relays, Morris continued on to defend her SEC title with a record-breaking performance of 4.72m/15-5.75. She followed that performance qualifying for the 2015 NCAA Outdoor Championships with one vault for an easy clearance of 4.24m/13-11 at the NCAA West preliminary round. Morris capped her successful campaign earning her fourth first-team All-American honor for her runner-up finish at the outdoor national meet with final clearance of 4.65m/15-3, her eighth 15-foot effort of the year.
For more information on Arkansas track and field including in-meet updates, follow @RazorbackTF on Twitter.