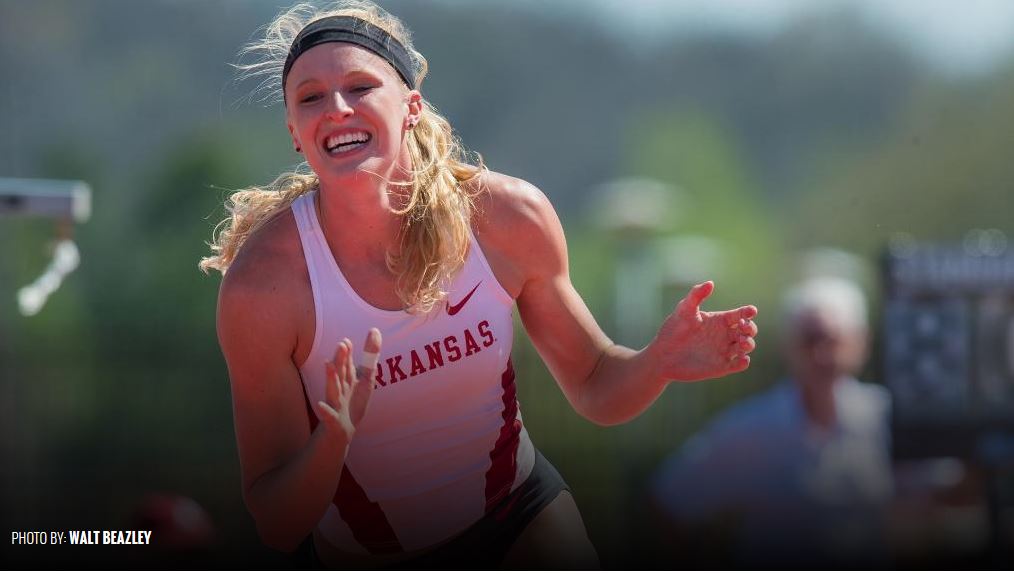 Morris Wins #TXRelays15 Title, Ties Meet Record
FAYETTEVILLE, Ark. – The No. 7 University of Arkansas women's track and field team capped its weekend with a fourth Texas Relays title by way of Sandi Morris in the pole vault. At their home opener in Fayetteville, the Razorbacks won an event title and turned in five runner-up performances at the Arkansas Spring Invitational. Arkansas returns to competition April 3-4 with the Stanford Invitational in Palo Alto, Calif.
Dating back to the indoor season, Morris won her fifth-consecutive competition with a clearance of 4.55m/14-11 which tied the Texas Relays meet record set by former Razorback standout Tina Sutej in 2011. Morris' win marks Arkansas' fourth Texas Relays title in the event, all over the past six years. Morris led a trio of top-10 finishes for the Razorbacks with teammates Desiree Freier (14-3.25) in sixth place and Ariel Voskamp (13-11.25) in ninth.
During the four-day spring opener, the Razorback women collected four Texas Relays titles to match the program's record haul during the 2010 competition. Alex Gochenour opened the week with a win in the heptathlon behind a personal best of 6,027 points. Arkansas also picked up titles from McKnight in the 400-meter hurdles and the sprint-medley relay team of Brianna Swinton, Daina Harper, Taylor Ellis-Watson and Chrishuna Williams that set a meet record of 3:42.36 in victory.
Back in Fayetteville running on her home track, Regan Ward ran away with the win in the 3,000-meter steeplechase. She finished in a time of 10:34.29 to establish a new personal best, crossing the line more than 25 seconds ahead of the race runner-up. Arkansas also came away with runner-up efforts from Regine Williams at 100 meters, Rebekka Simko at 800 meters, Valerie Reina at 1,500 meters, Samantha Mohler at 3,000 meters and Aatiyah Henry in the long jump.
The Razorbacks return to competition April 3-4 with the Stanford Invitational in Palo Alto, Calif. This weekend's meet was the first of three home events this outdoor season with the team also set to host the John McDonnell Invitational (April 10-11) and Arkansas Twilight (May 1). For ticket information about future home events, call 800-982-HOGS (4647), email raztk@uark.edu or visit the Razorback Ticket Center located next to Baum Stadium.
88th Clyde Littlefield Texas Relays | Austin, Texas
Saturday, March 28, 2015
Mike A. Myers Stadium
4x400m Relay
3. Williams/Harper/McKnight/Swinton – 3:32.47
Pole Vault ('A' section)
1. Sandi Morris – 4.55m/14-11
6. Desiree Freier – 4.35m/14-3.25
9. Ariel Voskamp – 4.25m/13-11.25
Arkansas Spring Invitational | Fayetteville, Ark.
Saturday, March 28, 2015
John McDonnell Field
100 Meters
2. Regine Williams – 11.92
3. Shekara Boakye – 11.97w (+2.4)
19. Kaylee McCarthy – 12.62w (+2.4)
200 Meters
6. Regine Williams – 24.68w (+2.8)
13. Shekara Boakye – 25.20w (+4.0)
16. Kaylee McCarthy – 25.55w (+4.0)
800 Meters (seeded section)
2. Rebekka Simko – 2:09.51
5. Victoria Feole – 2:12.65
800 Meters
12. Gina Hauptman – 2:22.86
1,500 Meters (seeded section)
2. Valerie Reina – 4:39.55
3. Kaitlin Flattmann – 4:40.49
3,000 Meters
2. Samantha Mohler – 9:54.13
3,000m Steeplechase
1. Regan Ward – 10:34.29
7. Chandler Crumblish – 11:34.15
High Jump
8. Alyssa Parker – 1.61m/5-3.25
Pole Vault
5. Stephanie Diettinger – 3.20m/10-6
–. Ariel Lachance – NH
Long Jump
2. Aatiyah Henry – 5.75m/18-10.5w (+2.6)
Triple Jump
5. Aatiyah Henry – 11.87m/38-11.5
For more information on Arkansas track and field including in-meet updates, follow @RazorbackTF on Twitter.