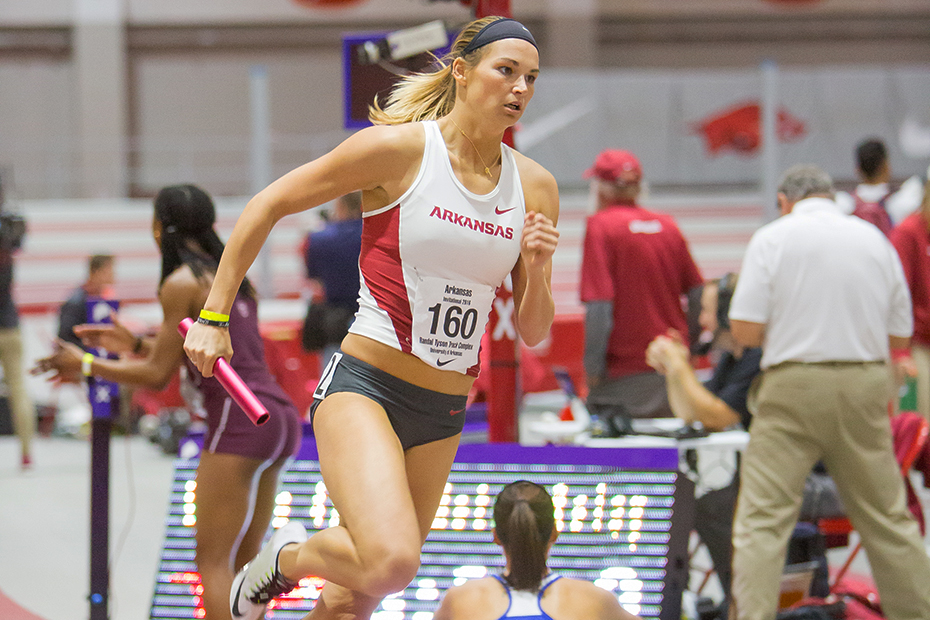 No. 4 Arkansas Looks to Cap Regular Season Strong
Meet Notes – 2.19
Live Results – Arkansas Qualifier
Alex Wilson Schedule
2016 Schedule
FAYETTEVILLE, Ark. – Heading into the last weekend of the regular season the No. 4 Arkansas women's track and field team will take on the Arkansas Qualifier on Friday, Feb. 19 at the Randal Tyson Track Center. The Razorbacks will also send a distance medley relay team up to South Bend, Ind. for the Alex Wilson Invitational on Saturday, Feb. 20.
USTFCCCA WEEK FOUR RANKINGS
A member of a conference which leads the country in nationally-ranked teams Arkansas remains one of the highest ranked SEC programs at No. 4. Along with the Razorbacks, the No. 1 Florida Gators and No. 3 Georgia Bulldogs combine to give the SEC a stronghold at the top of the polls.
ARKANSAS QUALIFIER
Teams attending the Arkansas Qualifier include: Arkansas Baptist, Baylor, Houston, Kansas, Missouri State, Oral Roberts and Texas Tech.
The Razorbacks currently lead the SEC in four events (400m, 3,000m, DMR and pole vault) and will look to secure improved performances in their final meet before next weekend's conference championships.
A live results stream beginning at 4:30 p.m. will be available on the SEC Network +.
Prime time action on Friday, Feb. 19 begins at 5 p.m. Tickets are just $5 for adults and youth 17 and under get in free. Visit arkansasrazorbacks.com or call 800-982-HOGS and get your tickets today.
ALEX WILSON INVITATIONAL
Sitting in sixth in the DMR on the national leader boards the Razorbacks hope to record a better time this Saturday at Notre Dame's Alex Wilson Invitational. Arkansas has led the country in the event for two-consecutive years and holds the second best performance of 10:51.89 in NCAA history.
Arkansas Qualifier Schedule of Events:
FRIDAY, FEB. 19
RUNNING EVENTS
5:00 p.m. M 60M DASH PRELIM
5:10 p.m. W 60M DASH PRELIM
5:20 p.m. M 400M DASH
5:35 p.m. W 400M DASH
5:50 p.m. M 60M HURDLE FINAL
5:55 p.m. W 60M HURDLE FINAL
6:00 p.m. M 60M DASH FINAL
6:05 p.m. W 60M DASH FINAL
6:10 p.m. M 3,000M
6:25 p.m. W 3,000M
6:40 p.m. M 800M
6:50 p.m. W 800M
6:55 p.m. M 200M DASH
7:10 p.m. W 200M DASH
7:25 p.m. M MILE
7:35 p.m. W MILE
7:45 p.m. M 4X400M RELAY
7:50 p.m. W 4X400M RELAY
FIELD EVENTS
2:00 p.m. M SHOT PUT
To follow W SHOT PUT
3:00 p.m. M LONG JUMP
W LONG JUMP
W POLE VAULT
W HIGH JUMP
4:00 p.m. M WT. THROW
5:00 p.m. M TRIPLE JUMP
W TRIPLE JUMP
6:00 p.m. M POLE VAULT
7:00 p.m. M HIGH JUMP
For more information on Arkansas track and field including in-meet updates, follow @RazorbackTF on Twitter.