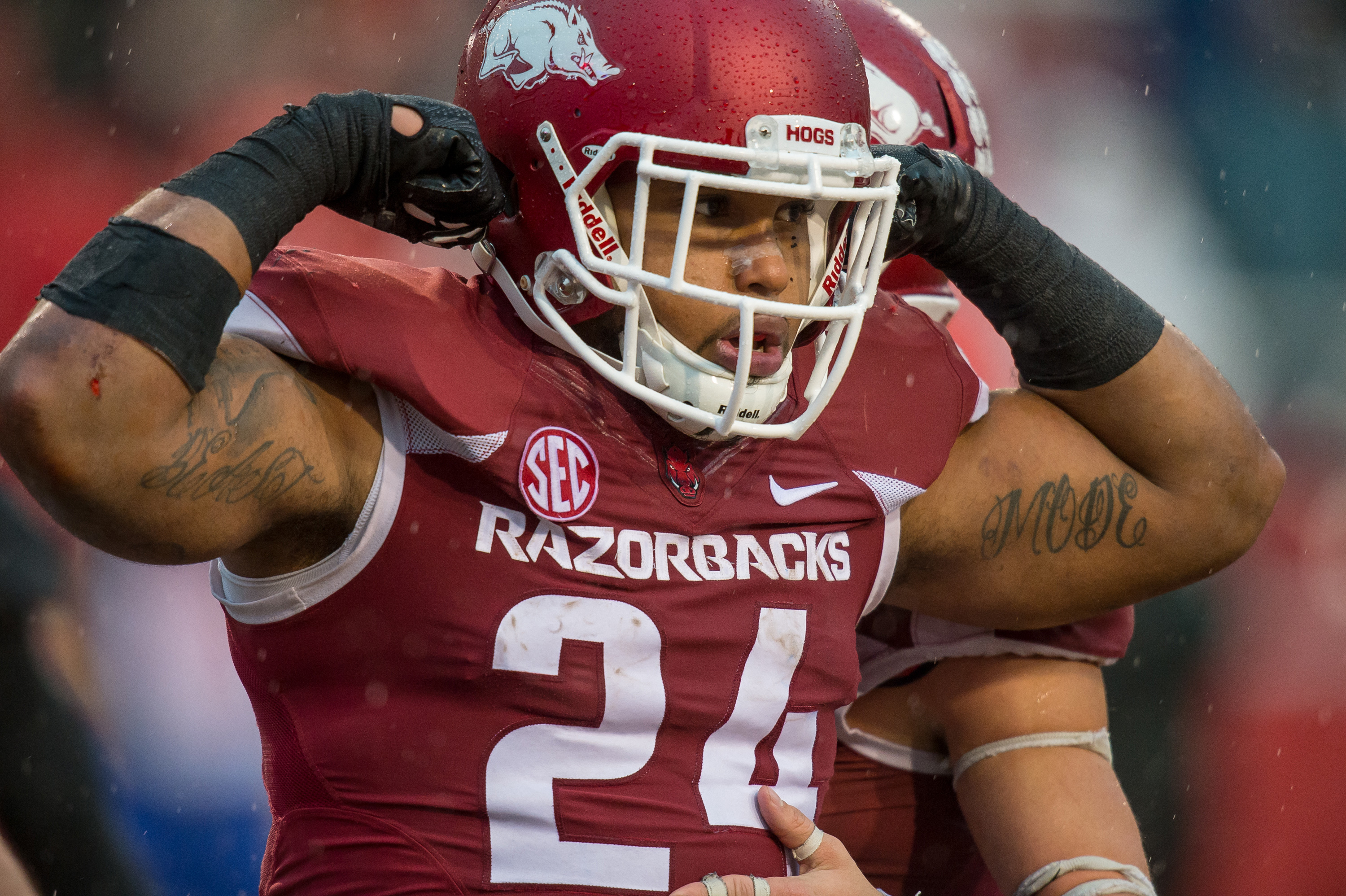 On The Air With Bret Bielema Kicks Off Thursday
FAYETTEVILLE, Ark. – "On the Air with Bret Bielema," Coach Bielema's weekly radio show presented by AT&T and Lindsey, returns for the 2016 season on Thursday night starting at 7 p.m. For the eighth straight year, the one-hour radio show will be broadcast live from the Catfish Hole in Fayetteville with first-year running backs coach Reggie Mitchell and senior running back Kody Walker as guests for the opening show.
Chuck Barrett, the voice of the Razorbacks, will host head coach Bret Bielema while fans can make reservations to attend the shows by calling the Catfish Hole at 479-521-7008. Tickets are $25 and include all you can eat dinner buffet with catfish, shrimp and chicken.
Arkansas enters its season opener against Louisiana Tech (Sept. 3) as winners in six of its last seven games. Mitchell has taken over the coaching duties for Arkansas' running back room after spending the last six seasons at Kansas in the same position. He was also the Jayhawks' recruiting coordinator for the last two years.
Recently named to the Reese's Senior Bowl Watch List, Walker participated in nine contests and started once last season, rushing for 394 yards and six touchdowns on 90 carries. Walker missed four games due to a thumb injury, but returned in a big way in the Razorbacks' quadruple-overtime win against Auburn. Four of Walker's eight carries against Auburn came in overtime with two going for touchdowns and another resulting in a first down. The Jefferson City, Missouri, product went on to rush for 366 yards and five touchdowns during the final seven games of the season and that momentum landed him on this seasons Doak Walker Award Watch List in the summer.
The show will be carried throughout the state of Arkansas on the Razorback Sports Network and locally in Fayetteville on 92.1 FM and 93.3 FM.
2016 "On The Air With Bret Bielema" Schedule
Thursday, August 25
Thursday, September 1
Thursday, September 8
Thursday, September 15
Thursday, September 22
Thursday, September 29
Thursday, October 6
Thursday, October 13
Thursday, October 20
No show – off week
Thursday, November 3
Thursday, November 10
Thursday, November 17
Wednesday, November 23
For more information on Razorback Football, follow @RazorbackFB on Twitter.