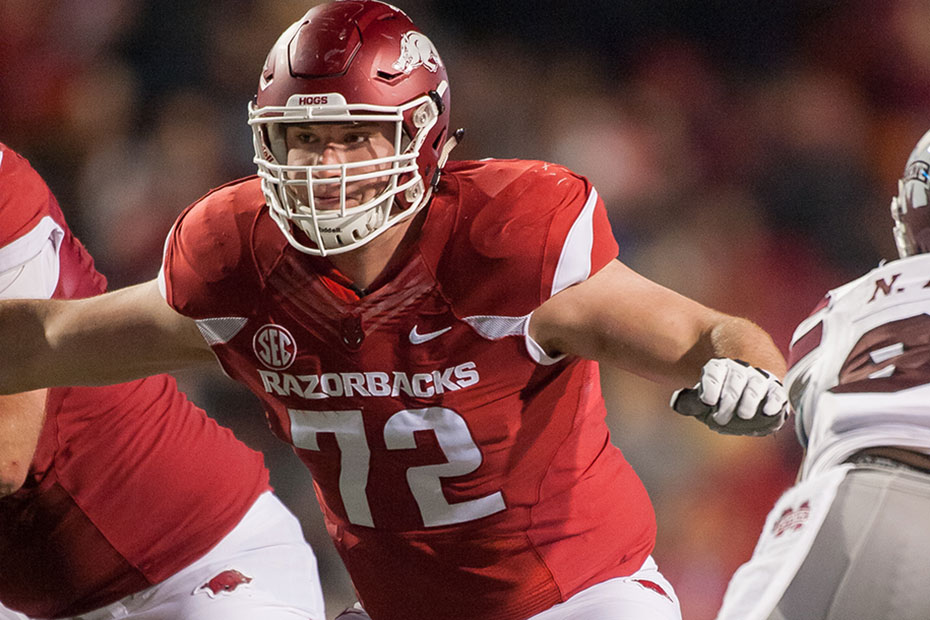 Ragnow Named To Rimington Trophy Watch List
FAYETTEVILLE, Ark. – Arkansas junior Frank Ragnow has been selected as one of 57 centers on the 2016 Spring Watch List for the Rimington Trophy, announced by the committee on Tuesday. The Rimington Trophy is presented annually to the Most Outstanding Center in NCAA Division I-A College Football.
Ragnow is the seventh different Razorback to be named to the Rimington Trophy Watch List over the award's 15-year history. The seven different Arkansas centers have a total of 11 appearances on the watch list with Jonathan Luigs winning the award in 2007.
The Chanhassen, Minnesota, native started all 13 games at right guard in 2015, but moved over to center during Spring practice due to the graduation of senior Mitch Smothers, who was named to the Rimington Trophy Watch list last Spring. Ragnow helped pave the way for running back Alex Collins to run for more than 1,500 yards and become just the third player in SEC history with three straight 1,000-yard campaigns to begin his career. In addition, Arkansas led the SEC with five 200-yard rushing games in league play and had a total of eight on the year.
Ragnow allowed only two sacks on the season to help Arkansas lead the SEC in fewest sacks allowed for the third-straight season. He didn't commit a penalty over the final nine games and didn't allow a sack over the last seven contests. He played more than 900 snaps and finished with a 78 percent offensive line grade while tallying 54 knockdowns.
The Rimington Trophy committee uses the following three teams to determine a winner:
Walter Camp Foundation (WCF)
Sporting News (SN)
Football Writers Association of America (FWAA)
Since its inception, the Rimington Trophy has raised over $2.6 million for the cystic fibrosis community. The award is overseen by the Boomer Esiason Foundation, which is committed to finding a cure for cystic fibrosis and has raised over $120 million for the fight against cystic fibrosis.
For more on the Rimington Trophy and a list of past recipients, visit www.RimingtonTrophy.com.
Arkansas Rimington Trophy Watch List Members
Frank Ragnow – 2016
Mitch Smothers – 2015
Travis Swanson – 2011, 12, 13
Jonathan Luigs – 2006, 07*, 08
Kyle Roper – 2005
Dan Doughy – 2003
Josh Melton – 2001
*-2007 Rimington Trophy Recipient