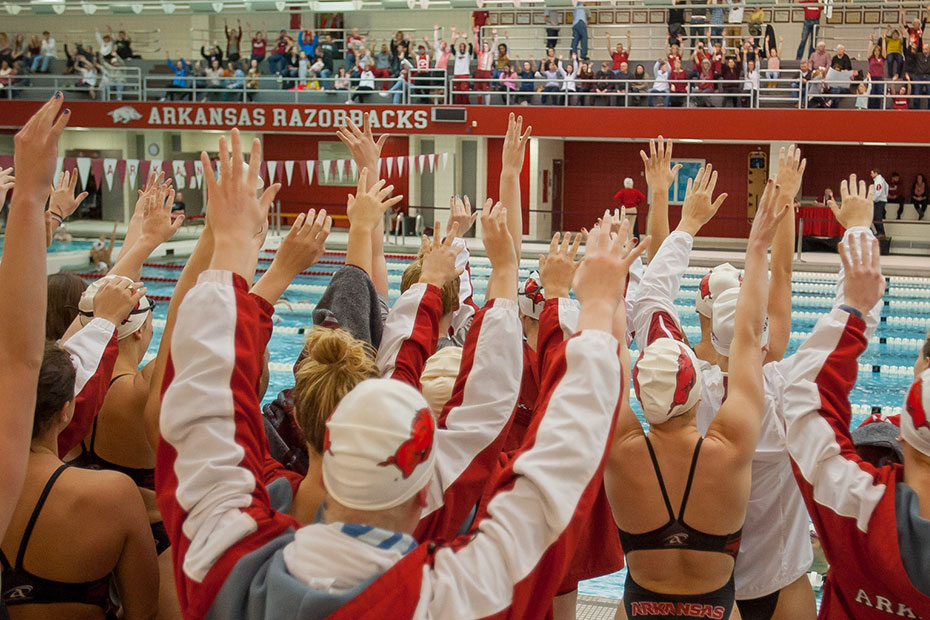 Razorbacks Complete Day One Of Quad Meet
FAYETTEVILLE, Ark. – The No. 24 Arkansas swimming and diving team turned in several outstanding performances Friday on the first day of a quad meet at the Arkansas Natatorium.
"We performed extremely well today," Arkansas swimming and diving head coach Sean Schimmel said. "Right now, our goal is to prepare for championship season, and we're striving to get better every day."
Arkansas' 200 free relay team of senior Nina Drolc, junior Natalie Burnett and seniors Maddie Monroe and Anna Mayfield opened meet action with a win, clocking a time of 1:33.68 to pace the Razorbacks for the rest of the day.
Junior Aiden Lister led off individual events with a first-place finish in the 1000 free (10:13.09).
After garnering a win in the 500 freestyle last weekend at No. 9 Auburn, Mayfield picked up a win in the 200 freestyle with a time of 1:48.48. Sophomore Chloe Hannam took second in 1:50.43. Hannam also earned a first-place finish in the 200 individual medley (2:02.12).
Burnett swam a time of 56.21 in the 100 backstroke en route to a first-place finish.
Three-time SEC Freshman of the Week Madison Strathman added to her impressive rookie campaign by winning the 100 breaststroke in 1:04.26, while sophomore Chelsea Tatlow won the 200 butterfly (2:01.13).
In the 50 free, Drolc touched the wall first with a time of 23.60. Freshman Erin Kelly finished second in 24.04, which matched a career best.
In diving, the Razorbacks took three of the top five spots in the three-meter competition. Sophomore Nicole Gillis finished third (298.45) while Shelby Bartlett and Hannah Bortnick claimed fourth (292.60) and fifth (291.10), respectively.
The Razorbacks 400 medley relay team of Mayfield, Strathman, Burnett and Monroe registered a first-place finish with a time of 3:45.04 to close out the day.
The Razorbacks complete the weekend's meet Saturday, beginning at 10 a.m.
Team scores heading into the second day of competition:
Vanderbilt 98, Houston 81
Vanderbilt 135, Clemson 16
Houston 150, Clemson 8
Arkansas 143, Vanderbilt 34
Arkansas 139, Houston 46
Arkansas 144, Clemson 10