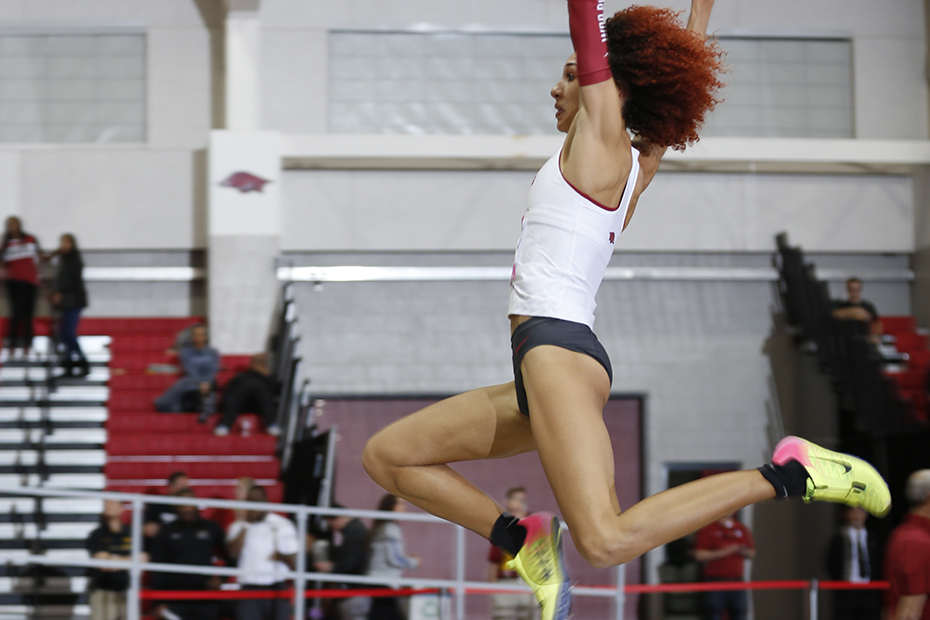 Record Day For Brooks At Tyson Invitational
FAYETTEVILLE, Ark. – Day one of the Tyson Invitational saw several members of the No. 1 Arkansas women's track and field team post impressive performances in Fayetteville, led by redshirt senior Taliyah Brooks who won the long jump off a program-record leap.
Entering the meet as the NCAA's best pentathlete, Brooks set out on a mission to make the same stride in the long jump. She opened her series with a strong mark, jumping out to 6.47m/21-2 3/4 on her first attempt. The Wichita Falls, Texas native went on to improve to 6.49m/21-3 1/2 in the fourth round before marking her best jump of the day of 6.57m/21-6 3/4 on her sixth and final attempt. Her PR jump pushed her up the NCAA leader boards to No. 2 in the long jump – 2 and 1/4 inches shy of the tying the leader.
"I think she [Taliyah] had a really good day," associate head coach Chris Johnson said. "Obviously she's seasoned and we've been preparing for this moment. We knew we wanted to jump big here so it was just a matter of going out and executing. We've done some things in practice to clean up her form a little bit and she did a really great job balancing between running the 60 and being able to long jump at the same time."
Improvements on the Track
Sophomore Jada Baylark and junior Payton Chadwick raced to top-three performances in the 60-meter dash and 60-meter hurdles, respectively, both running season best times. Baylark strengthened her claim as the second-fastest 60-meter sprinter in Arkansas history, improving her time by .02 seconds. Her 7.22 performance advanced her out of the preliminary round and helped her maintain a place among the NCAA top-six in the event. The Razorback program-record holder in the 60-meter hurdles, Chadwick placed third, clocking 8.10 in the event final. The performance moves her up from No. 8 to No. 6 in the NCAA.
"We're headed in the right direction as a team," Johnson said. "There are somethings we need to do. We just got to get better. Hopefully tomorrow we improve on some 200-meter times and get a 4-x-400-meter relay qualified for the national meet."
Events Winner(s):
• Taliyah Brooks, Long Jump: 6.57m/21-6 3/4
Events To Watch (Saturday):
• 3:00 p.m. | 200 Meters Invitational
Featured Razorback: Payton Chadwick (PR: 22.99)
• 3:00 p.m. | Pole Vault Invitational
Featured Razorback: Lexi Jacobus (PR: 4.64m/15-2 3/4)
Tyson Invitational
February 9, 2018
Randal Tyson Track Center (Fayetteville, Ark.)
60 Meters Qualifying
3. Kiara Parker – 7.35
10. Taliyah Brooks – 7.41
15.Tamara Kuykendall – 7.50
46. Kayla Carter – 7.97
60 Meters Prelims
5. Jada Baylark – 7.22
12. Kiara Parker – 7.36
15. Taliyah Brooks – 7.41
60 Meters Finals
3. Jada Baylark – 7.22
400 Meters Invitational
14. Morgan Burks-Magee – 54.15
400 Meters
22. Sydney Davis – 55.96
800 Meters Invitational
3. Joy Ripslinger – 2:08.56
5. Ruth Wiggins – 2:10.33
6. Kailee Sawyer – 2:10.87
800 Meters
6. Emily Jeacock – 2:15.11
Mile
5. Greta Taylor – 5:11.21
6. Tess Iler – 5:12.78
11. Kristen Larkan – 5:20.30
60 Meter Hurdles Qualifying
1. Janeek Brown – 8.18
60 Meter Hurdles Prelims
2. Payton Chadwick – 8.14
3. Janeek Brown – 8.16
60 Meter Hurdles Finals
3. Payton Chadwick – 8.10
7. Janeek Brown – 8.23
Long Jump Invitational
1. Taliyah Brooks – 6.57m/21-6 3/4
Husky Classic
February 9, 2018
Dempsey Indoor Track (Seattle, Wash.)
5,000 Meters
30. Maddy Reed – 16:36.61
39. Sydney Brown – 16:51.70
For more information on Arkansas track and field including in-meet updates, follow @RazorbackTF on Twitter.