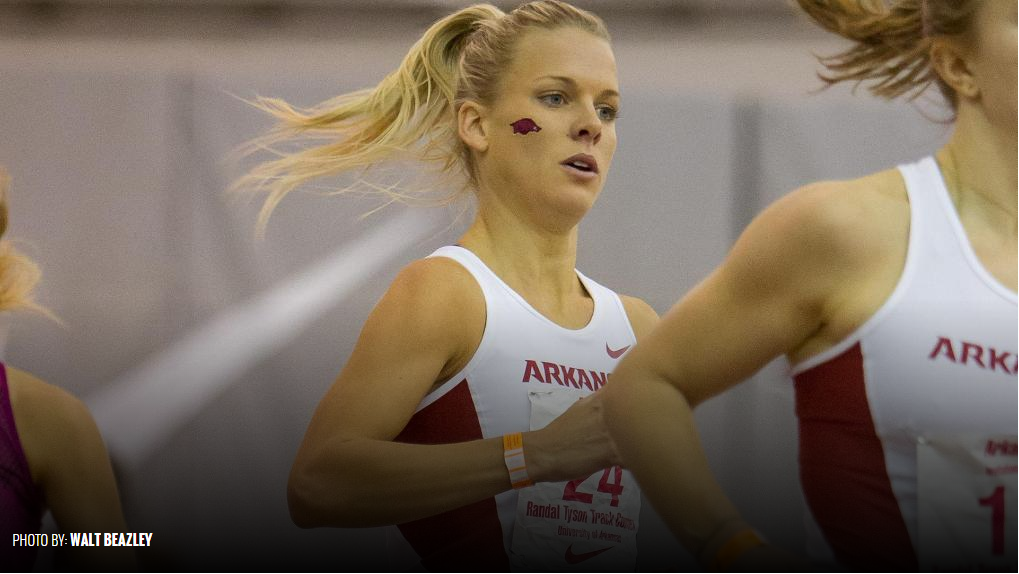 Scott's Record Highlights Great Saturday for Women's @RazorbackTF
FAYETTEVILLE, Ark. – Dominique Scott's performance at the Husky Classic in Seattle, Wash. highlighted a solid Saturday on the track for the No. 3 Arkansas women's track team.
Scott won the 3,000 meter at the Husky Classic in 8:52.57. The Capetown, South Africa native's time is a personal-best, a Husky Classic meet record, a program record, top time in the country this season and the fifth-best time in collegiate history.
Therese Haiss and Jessica Kamilos finished 2-3 thanks to personal-best times in the mile in Seattle. Haiss finished in 4:36.31, while Kamilos crossed the finishline in 4:36.56.
At the Tyson Invite, Sandi Morris took first place in the pole vault (14-8.75) and took three attempts at the collegiate record. Junior Taylor Ellis-Watson took first in the 200 meter dash with a personal-best 23.08, which is the second fastest time in the SEC this season.
Regan Ward's personal-best 16:39.88 was good enough to give her second place in the 5,000 meter seeded race, while Tamara Myers placed third in the triple jump with a mark of 43-5.
The Razorbacks will be back in action Feb. 27-28 at the SEC Championships in Lexington, Ky.
For the latest information on Arkansas women's track and field, follow @RazorbackTF on Twitter.
DAY 2 RESULTS
Triple Jump
33) Aatiyah Henry – 37-8.5 (11.49m)
Pole Vault Invitational
1) Sandi Morris – 14-8.75 (4.49m)
8) Ariel Voskamp – 13-5 (4.09m)
10) Desiree Freier – 13-1 (3.99m)
High Jump
3) Leigha Brown – 5-9.75 (1.77m) (T-PR) – Tied Eighth in the SEC
Shot Put
25) Micah Dennis – 45-1.50 (13.75m)
200m Dash
1) Taylor Ellis-Watson – 23.08 (PR) – Second Fastest SEC, Third Fastest NCAA
31) Sparkle McKnight – 24.41
38) Regine Williams – 24.50
40) Taliyah Brooks – 24.58 (PR)
45) Daina Harper – 24.73
52) Shekara Boakye – 25.06
3,000m – Seeded
10) Samantha Mohler – 10:08.53
3,000m – Husky Classic
1) Dominique Scott – 8:52.57 (PR) (Meet Record) (5th Best Time in Collegiate History) (Top time in the country this season)
5,000m – Seeded
2) Regan Ward – 16:39.88 (PR) – Third Fastest SEC
Mile – Husky Classic
2) Therese Haiss – 4:36.31 (PR) (Top 10 in the country this season)
3) Jessica Kamilos – 4:36.56 (PR) (Top 10 in the country this season)
Triple Jump
3) Tamara Myers – 43-5 (13.23m) – Fifth Longest in the SEC, Fourth longest in school history
High Jump Invitational
13) Alex Gochenour – 5-7.75 (1.72m)
4×400-meter Relay
4) Arkansas: Regine Williams, Daina Harper, Taylor Ellis-Watson, Chrishuna Williams – 3:33.58 – Third Fastest SEC, Fourth Fastest NCAA
PR – personal best | q – qualifier
Fayetteville, the "Track Capital of the World", will be at the center of the track and field universe on the weekend of March 13-14 as the Razorbacks will host the 2015 NCAA Indoor Track and Field Championships at the Randal Tyson Track Center, the home of the "Fastest Indoor Track in the World". Since the facility's opening in 2000, Arkansas and the Randal Tyson Track Center have hosted the event 11 times, including nine straight seasons and 11 of the last 13 championships.
A two-day, all-session ticket to the NCAA Indoor Championships is $40 for reserved seating and $30 for general admission adult ticket.
Season tickets and NCAA all-session passes are available online at HERE, by contacting the Razorback Athletics Ticket Center via phone at (800) 982-HOGS or in person at the Razorback Athletics Ticket Center, located just east of Baum Stadium at 1295 S. Razorback Rd. in Fayetteville.