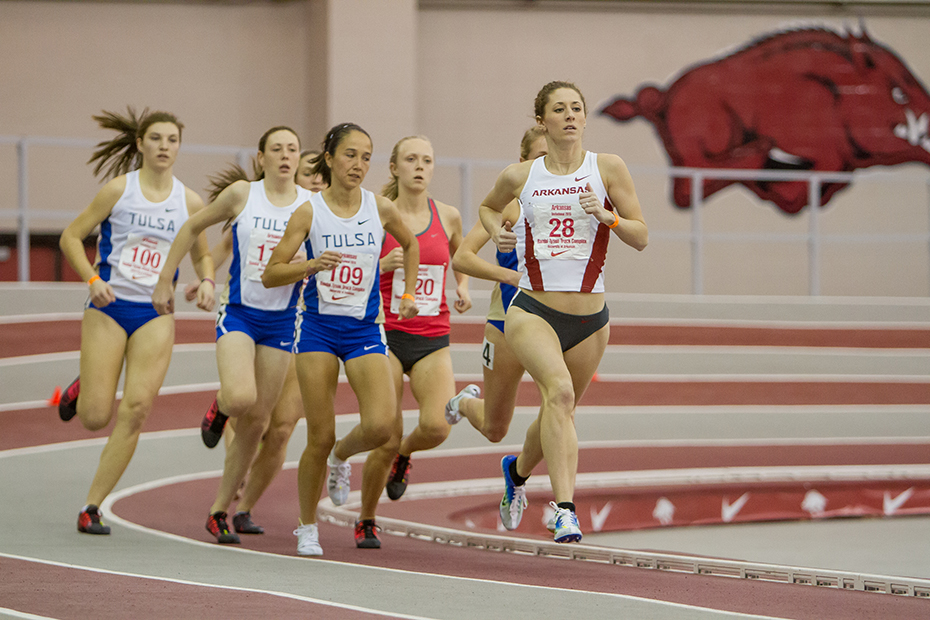 SEC Leading Time Highlights Day One
Gladstein Invitational Results day one
BLOOMINGTON, Ind. – The No. 1 Arkansas women's track and field team picked up another SEC-leading performance off the heels of Regan Ward in the invitational section of the 3,000-meter run during day one of the Gladstein Invitational Friday afternoon.
The Oklahoma native improved on her personal best by almost eight seconds, finishing as the third-best collegian in the event with 9:30.51. Ward's performance at 3,000 meters is the sixth-best in the NCAA this season.
Redshirt freshman Sydney Brown opened her first track season as a Razorback with a sub-10 minute performance in the open 3,000-meter run. The Texas native led the field with a competitive pace. She remained with the front pack through all 15 laps finishing in fifth place with 9:51.55.
Arkansas's only runner in the 60-meter dash, freshman Kiara Parker, won heat 2 of the competition to advance to tomorrow's finals section. One of the first runners out of the blocks, Parker cruised past her opponents securing the win in 7.59 seconds.
Four Razorbacks qualified for the 60-meter hurdle finals: Taliyah Brooks, Alex Gochenour, Kelsey Herman and Payton Stumbaugh advanced out of the semifinals by winning each of their respective heats.
Brooks and Stumbaugh ran the top two times of the day in the high-hurdles, running 8.25 and 8.33, respectively.
Freshman Damajahnee Birch placed second in the 400-meter dash with her time of 56.24. Running out of lane five, Birch took off out of the blocks and positioned herself as the lead runner through lap one. She closed the race strong to earn the runner-up spot in her first competition as a Razorback.
In the invitational section of the 400-meter dash, three-time All-American Daina Harper clocked 54.54 to place first in the event. She earned a spot in the NCAA top 10 with the ninth-best time this season.
2015 NCAA DMR champion Jessica Kamilos closed out the day for the Razorbacks with a victory in the invitational mile. Kamilos and teammate Valerie Reina raced to the front of the pack by the second turn, slowly moving further away from the group with each step. On the bell lap, Kamilos attacked the final 200 meters placing first in 4:50.52. Reina finished fourth in 4:51.12.
Arkansas returns to action at the Gladstein Invitational tomorrow in the 60-meter finals, 200-meter dash, 600-meter run, 800-meter run, 60-meter hurdle finals, 4×800-meter relay and the long jump.
Five Razorbacks also will compete in the West Coast tomorrow at the New Mexico Cherry & Silver Invitational in the pole vault and shot put events.
2016 Gladstein Invitational Day 1 Results
Gladstein Fieldhouse
Bloomington, Ind.
60 Meters
Kiara Parker – 7.59
400 Meters
Damajahnee Birch (2) – 56.24
Monisa Dobbins (7) – 57.19
Ceara Watson (9) – 57.38
400 Meters Invitational
Daina Harper (1) – 54.54
Brianna Swinton (5) – 57.02
Mile Invitational
Jessica Kamilos (1) – 4:50.52
Valerie Reina (4) – 4:51.12
3,000 Meters
Sydney Brown (5) – 9:51.55
Logan Bishop (10) – 10:13.95
3,000 Meters Invitational
Regan Ward (4) – 9:30.51
Samantha Mohler (13) – 9:58.93
Kelsey Schrader (14) – 9:59.85
60 Meter Hurdles Prelims
Taliyah Brooks – 8.25q
Payton Stumbaugh – 8.33q
Kelsey Herman – 8.39q
Alex Gochenour – 8.78q
Leigha Brown – 8.83
Jaela Williams – 9.04
High Jump
Kelsey Herman (8) – 1.63m/5-4.25
2016 Gladstein Invitational Day 2
Gladstein Fieldhouse
Bloomington, Ind.
9:45 a.m. – Long Jump – Taliyah Brooks, Leigha Brown, Alex Gochenour, Payton Stumbaugh
9:50 a.m. – 200m Open – Damajahnee Birch, Leigha Brown, Monisa Dobbins,
10:55 a.m. – 60mH Finals – Taliyah Brooks, Alex Gochenour, Kelsey Herman, Payton Stumbaugh
11:05 a.m. – 60m Finals – Kiara Parker
11:45 a.m. – 800m – Therese Haiss, Kailee Sawyer, Annika Sisson
12:20 p.m. – 600m Invitational – Ceara Watson
12:30 p.m. – 200m Invitational – Taliyah Brooks, Taylor Ellis-Watson, Daina Harper, Kelsey Herman, Kiara Parker, Payton Stumbaugh, Brianna Swinton, Jaela Williams
12:50 p.m. – 4x800m – Arkansas A, Arkansas B
2016 New Mexico Cherry & Silver Invitational Day 2
Albuquerque Convention Center
Albuquerque, Nm.
10:30 a.m. – Shot Put – Micah Dennis
2:15 p.m. – Pole Vault – Ariel Voskamp, Lexi Weeks, Tori Weeks, Megan Zimlich
For more information on Arkansas track and field including in-meet updates, follow @RazorbackTF on Twitter.