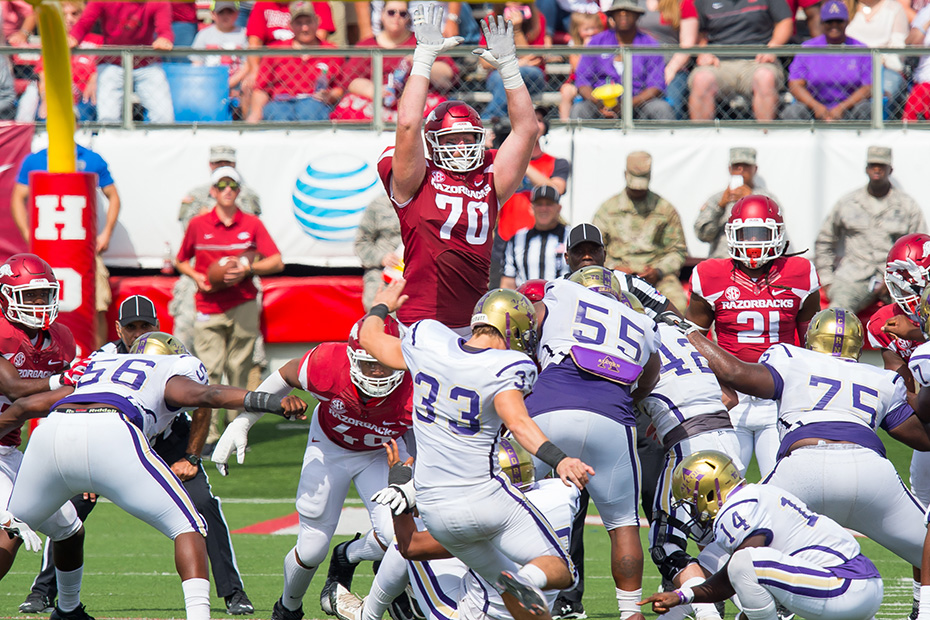 Skipper Recognized by SEC For Seventh Block
BIRMINGHAM, Ala. – Arkansas senior offensive lineman Dan Skipper earned his second SEC weekly award of the season on Monday, but this time it was for blocking kicks instead of defenders. Skipper has been named the SEC Special Teams Co-Player of the Week after recording the seventh blocked field goal of his career against Alcorn State.
Earlier in the season, Skipper earned his second career SEC Offensive Lineman of the Week award. Skipper is the first Razorback to win SEC Special Teams Player of the Week since Sam Irwin-Hill in 2014.
Skipper's second block of the season and seventh of his career came in the fourth quarter when he smothered a 41-yard field goal attempt. The 6-foot-10 Colorado native recorded his first block of the season at No. 15 TCU when he turned away a potential game-winning 28-yard field goal with just 10 seconds remaining in the fourth quarter.
With 39 straight starts along the offensive line, Skipper is just two blocked field goals away from the NCAA record of nine set by SMU's Magnus Hunt from 2009-11.
2016 SEC Weekly Awards
Offensive Player of the Week
Austin Allen, QB (Sept. 12)
Offensive Lineman of the Week
Dan Skipper, LT (Sept. 12)
Frank Ragnow, RG (Sept. 19)
Defensive Lineman of the Week
Deatrich Wise, DE (Sept. 6)
Special Teams Player of the Week
Dan Skipper, OL (Oct. 3)