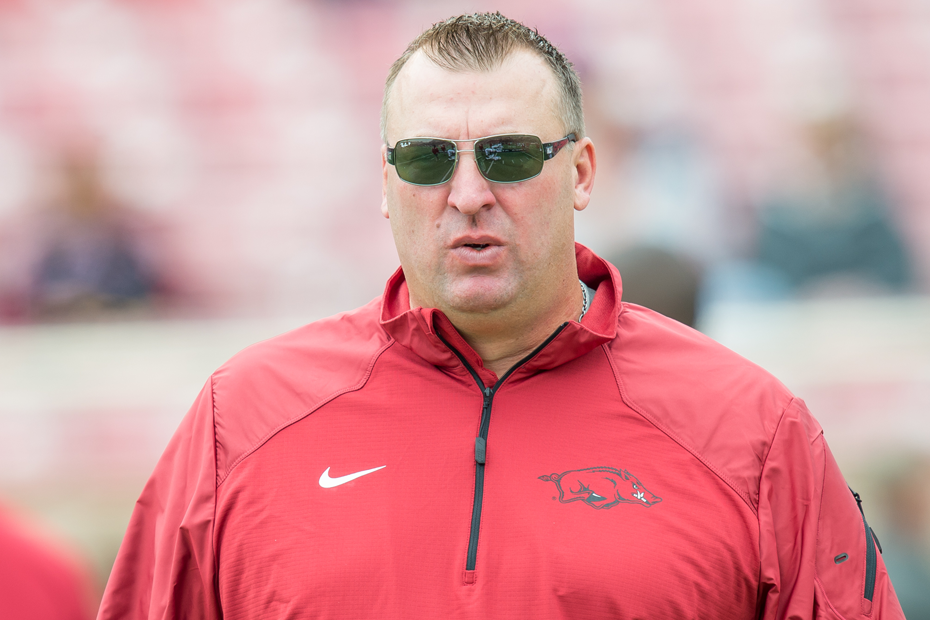 Spring Football Positional Preview: Quarterbacks
SPRING GAME: SATURDAY, APRIL 25 AT 1 P.M. (FREE ADMISSION)
Arkansas resumes spring practice on Tuesday, March 31 and will hold 15 practices during the spring semester, culminating in the Red-White Spring Game on Saturday, April 25 at 1 p.m. Here is a positional breakdown of the Razorback quarterbacks.
Quarterbacks coach: Dan Enos (Michigan State '91, 1st year at Arkansas)
Returners: Austin Allen (6-1, 210; So.), Brandon Allen (6-2, 210; Sr.), Troy Allison (6-1, 180; R-Fr.), Rafe Peavey (6-2, 203; R-Fr.)
Spring Arrivals: Ty Storey (6-3, 211; Fr.)
Summer Additions: None
Fun with Numbers: Five – the total number of interceptions that Brandon Allen threw in 2014. It marked the fewest interceptions thrown by a Razorback starting quarterback since 1992 when Barry Lunney Jr. also threw five. It also tied for the SEC lead in fewest interceptions thrown by a starting quarterback last year.
Breakdown: Fifth-year senior Brandon Allen enters the 2015 season as the incumbent, having started 25 games in his career. His 34 career touchdown passes rank sixth in school history with his entire senior year left to play.
The elder Allen looks to continue his rapid growth under first-year coach Dan Enos. The former Central Michigan head coach and play-caller was a quarterback himself at Michigan State and has inherited several fifth-year starting quarterbacks throughout his coaching career, including Drew Stanton, the former Spartan quarterback and current Arizona Cardinals signal-caller.
There will be plenty of competition for the No. 2 spot on the depth chart with Austin Allen, Rafe Peavey and Ty Storey all fitting into the race.
The younger Allen was the backup quarterback in 2014 and did an admirable job filling in for his injured older brother in the shutout win over Ole Miss. Austin Allen played in five games totaling 153 passing yards and one rushing touchdown last year.
Depth and health at the position allowed Arkansas to redshirt Rafe Peavey in 2014. Peavey was a highly decorated quarterback coming out of Bolivar HS in Bolivar, Mo. and earned top 10 rankings from several recruiting sources out of high school. With a full year under his belt of learning the Razorbacks' pro-style offense, he is expected to make a push for the backup role this spring.
The only new scholarship quarterback on Arkansas' roster is early enrollee Ty Storey. A product of Charleston, Ark., Storey joins the Razorbacks as one of the most successful passers in Arkansas high school state history. He was a two-time Gatorade Arkansas Football Player of the Year winner and led Charleston to undefeated seasons and state championships in 2013 and 2014. Although Storey will have to adjust to the pro-style attack that Arkansas utilizes, he will get a jump start by enrolling early and participating in spring practices.
Spring Game: Arkansas will host its annual Red-White Spring Game on Saturday, April 25 at 1 p.m. at Donald W. Reynolds Razorback Stadium in Fayetteville, Arkansas. Admission is free. Please check online before arriving for parking and street closure information.
Other activities surrounding the Red-White Spring Game:
9 a.m. – RazorFest
1 p.m. – Kickoff
6 p.m. – Baseball vs. Mississippi State at Baum Stadium