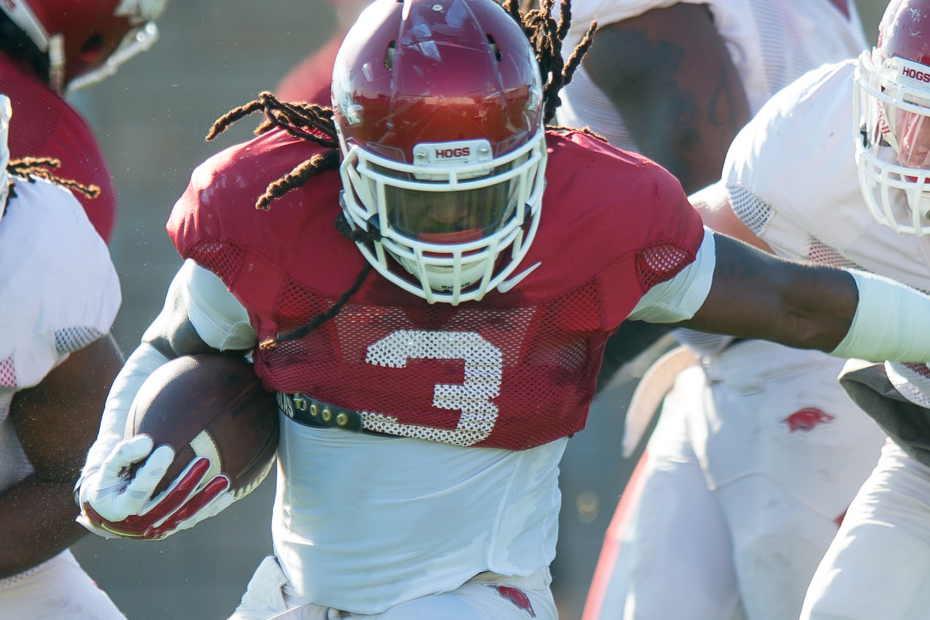 Spring Football Positional Preview: Running Backs
SPRING GAME: SATURDAY, APRIL 25 AT 1 P.M. (FREE ADMISSION)
Arkansas resumes spring practice on Tuesday, March 31 and will hold 15 practices during the spring semester, culminating in the Red-White Spring Game on Saturday, April 25 at 1 p.m. Here is a positional breakdown of the Razorback running backs.
Running backs coach: Jemal Singleton (Air Force '99, 1st year at Arkansas)
Returners: Alex Collins (5-11, 224; Jr.), Tyler Colquitt (5-10, 236; R-Fr.), Juan Day (6-1, 212; R-Fr.), Conner Dayton (5-11, 160; So.), Denzell Evans (5-11, 222; So.), Chris Jones (5-11, 245; So.), Kohl Slaughter (6-2, 220; So.), Kody Walker (6-2, 250; Sr.), Jonathan Williams (6-0, 224; Sr.)
Spring Arrivals: John Tyson (5-10, 216; R-Fr.)
Summer Additions: Rawleigh Williams III (5-10, 205; Fr.)
Fun with Numbers: Two – the number of 1,000 yard rushers the Razorbacks had last season. Arkansas was the only team in the nation to have two 1,000-yard rushers.
Breakdown: Razorback fans were elated  when Jonathan Williams announced on Christmas Eve that he would be returning to Arkansas for his senior season. Williams led the Razorbacks with 1,190 rushing yards in 2014 and teamed with Alex Collins as the only pair of 1,000-yard rushers in the country last year. Entering his senior season, Williams already ranks 10th in school history with 2,321 career rushing yards and should climb the charts before he finishes his career.
The other 1,000-yard rusher is also back in Alex Collins. The Fort Lauderdale, Fla. native is just the second Razorback to ever rush for 1,000-plus yards in each of his first two seasons, joining Darren McFadden on the exclusive list. Collins has totaled 2,126 career rushing yards, ranking No. 14 in program history.
Arkansas adds depth in the offensive backfield with senior Kody Walker. A hybrid, Walker can play both the tailback and fullback positions and brings plenty of experience with 26 career games played.
The fullback position may be up for grabs in the offseason as Patrick Arinze graduated. Arinze split time with Walker and it remains to be seen if Walker will spend more time at tailback or fullback in 2014. He begins spring practice listed as the starter at fullback on the depth chart.
Other potential options at fullback include Tyler Colquitt and Chris Jones. Colquitt redshirted last season after a successful high school career at Pulaski Academy in Little Rock. Jones played in four games in 2014 but battled injuries throughout the year.
Arkansas also adds a highly touted recruit this summer with the addition of Rawleigh Williams III. A Dallas, Texas product, Williams was one of the most productive running backs in Texas prep history, totaling 5,023 rushing yards in his career including 2,814 rushing yards and 37 rushing touchdowns as a senior at Bishop Lynch HS. Williams also excels in track and has been timed under 11 seconds in the 100-meter dash on multiple occasions this spring.
Spring Game: Arkansas will host its annual Red-White Spring Game on Saturday, April 25 at 1 p.m. at Donald W. Reynolds Razorback Stadium in Fayetteville, Arkansas. Admission is free. Please check online before arriving for parking and street closure information.
Other activities surrounding the Red-White Spring Game:
9 a.m. – RazorFest
1 p.m. – Kickoff
6 p.m. – Baseball vs. Mississippi State at Baum Stadium