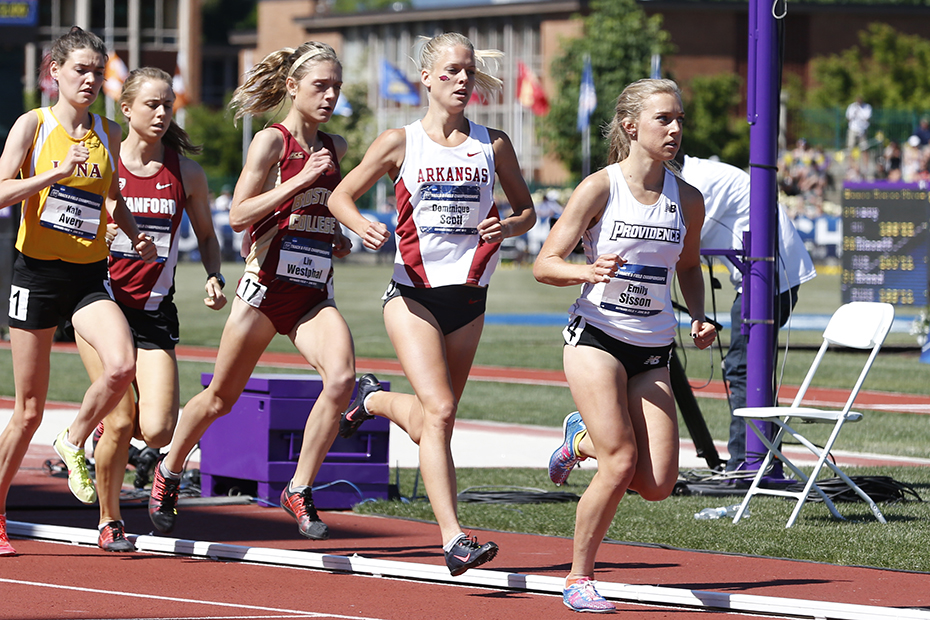 Top-Ranked Razorbacks Sweep SEC Awards
BIRMINGHAM, Ala. – For the second-consecutive week the No. 1 Arkansas women's track and field team has swept the Southeastern Conference (SEC) weekly senior accolades. NCAA event-leaders Taliyah Brooks (heptathlon) and Dominique Scott have been selected as the SEC Field Athlete and Runner of the Week, respectively, following their dominant performances last weekend.
A first-time SEC weekly honoree, Brooks earned the recognition from her exceptional showing in the heptathlon at the Clyde Littlefield Texas Relays in Austin, Texas. The 2016 NCAA indoor pentathlon runner-up outperformed the field in two out of the seven events while remaining a fixture at the top of the leader board in the other five. Her final score of 5,991 points is the third-best performance in the event in program history and currently ranks her as the fourth-best heptathlete in the world.
This is Scott's second-consecutive SEC Runner of the Week award. She was previously selected during the week of March 29, following her outdoor debut at the Arkansas Spring Invitational where she ran an NCAA-leading time in the 1,500-meter run. While she no longer leads the NCAA in the 1,500, Scott remains the third-best collegiate performer in the event this season.
A seven-time first team All-American, Scott, was recognized by the conference office this week for her world-leading 5K performance at the Stanford Invitational. Her time of 15:25.10 broker her previous program record by seven seconds. Scott currently leads the NCAA in the 5K by a 19-second margin and leads the SEC by a 40-second margin.
2016 Outdoor Top 10 (5,000m)
1. Dominique Scott – Arkansas (1) 15:25.10
2. Liv Westphal – Boston College 15:44.28
3. Bethan Knights – California 15:52.91
4. Brenna Peloquin – Boise State 15:55.43
5. Kaitlyn Benner – Colorado 15:56.52
6. Alsu Bogdanova – Eastern Michigan
7. Sandie Raines – Texas (4) 15:59.58
8. Alli Cash – Oregon (6) 16:00.90
9. Alice Wright – New Mexico (18) 16:01.67
10. Samantha Nadel – Georgetown 16:02.06
2016 Outdoor Top 10 (Heptathlon)
1. Taliyah Brooks – Arkansas (1) 5,991
2. Payton Stumbaugh – Arkansas (1) 5,985
3. Alex Gochenour – Arkansas (1) 5,833
4. Ashtin Zamzow – Texas (4) 5,829
5. Amalie Iuel – USC (2) 5,799
6. Paige Knodle – Northern Iowa 5680
7. Grete Sadeiko – Florida State (22) 5,676
8. Jaclyn Siefring – Akron, 5,627
9. Leigha Brown – Arkansas (1) 5,618
10. Lucia Mokrasova – UTEP 5,615
For more information on Arkansas track and field including in-meet updates, follow @RazorbackTF on Twitter.