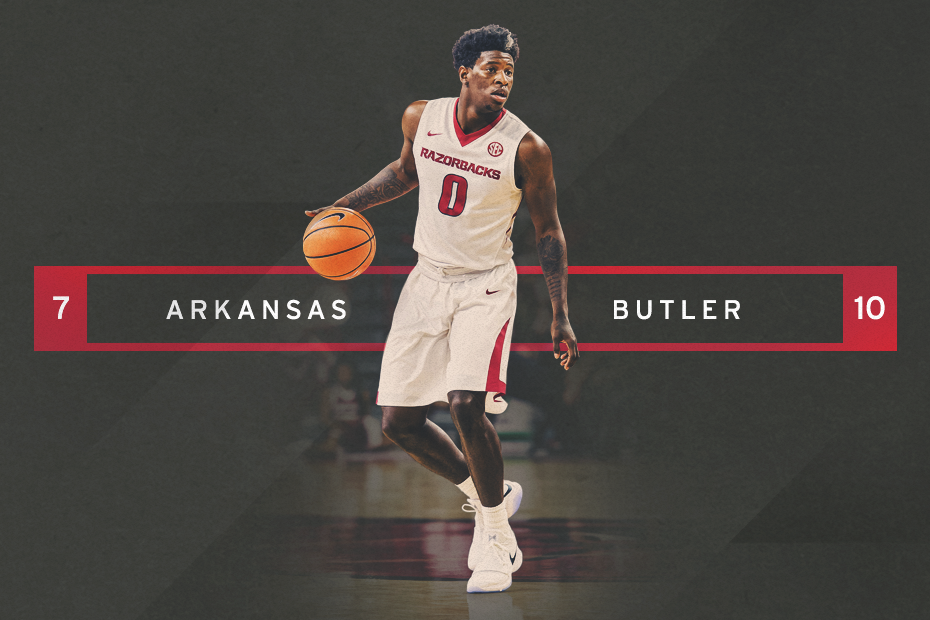 Arkansas Earns No. 7 Seed in NCAA Tournament
FAYETTEVILLE, Ark. – For the third time in the last four seasons, the Arkansas men's basketball team punched its ticket to the Big Dance, earning a No. 7 seed in the east region of the NCAA Tournament.
Winning eight of their last 11 games, the Razorbacks (23-11) will open play on Friday against the No. 10 Butler Bulldogs (20-13) of the Big East Conference in the round of 64 at the Little Caesars Arena in Detroit, Michigan at 2:10 p.m. on truTV. The winner advances to play No. 2 Purdue or No. 15 Cal State Fullerton.
The Razorbacks are a No. 7 seed for the second time in program history, holding an overall record of 0-1.
Head coach Mike Anderson is making his ninth NCAA Tournament appearance in his 16th year as a head coach. He has a 9-8 record in the Big Dance, having advanced as far as the Elite Eight in 2008-09 during his days at Missouri.
Arkansas is making its 32nd appearance in the NCAA Tournament and its third appearance in a four-year span for the first time in 10 years. The Razorbacks have won their opening game of the tournament in both years under Anderson, knocking off Wofford in 2015 and Seton Hall in 2017.
Arkansas is 42-31 all-time in its previous 31 appearances, including a 20-11 mark in its first game in the tournament.
Ticket Information
Preorders: Fans who preordered tickets will receive an email from us tonight. No action is needed at this time. If you have a change to your request, please contact the Razorback Ticket Center at (479) 575-5151 between 8:30 and 11 a.m. on Monday, March 12.  No changes will be permitted after this date and time.
Razorback Foundation Members and Season Ticket Holders who did not preorder — you can request now online by clicking here.
Students: University of Arkansas students can request tickets now by clicking here!
Public: If available, tickets will go on sale to the general public on Monday, March 12.
For more information on Arkansas Men's Basketball, follow @RazorbackMBB on Twitter.