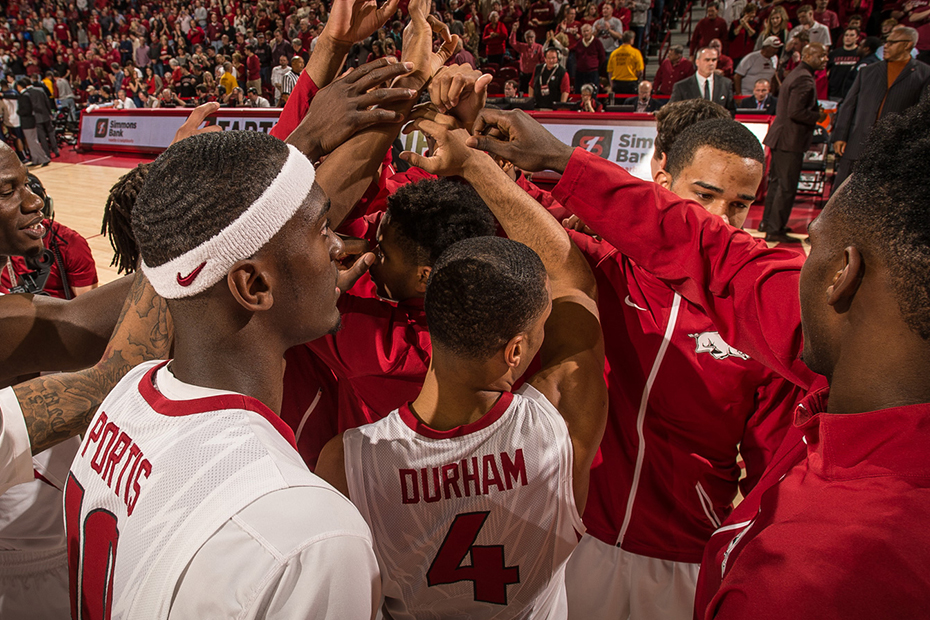 Arkansas Looks To Get Back On Track On Thursday Night
AT A GLANCE
Arkansas will look to snap its two-game losing streak and bounce back from its first loss at Bud Walton Arena in nearly a year when it hosts Alabama Thursday night on ESPN2. For just the second time since Arkansas joined the SEC in 1991-92, the two teams will meet only once in the regular season. Thursday begins a stretch of three games in six days for the Razorbacks.
• Arkansas (No. 28) and Alabama (No. 46) make up two of the seven SEC teams in the ESPN RPI Top 50. The SEC's seven teams equals the ACC & Big 12 while the BIG EAST leads with eight.
• Sophomore BOBBY PORTIS (18.3) & junior MICHAEL QUALLS (16.1) are the top SEC scoring duo.
• Portis leads the SEC in scoring and has posted three straight double-doubles.
• Arkansas is one of five teams in the top 10 nationally in scoring (T6th) and assists (T4th).
• Arkansas is receiving votes in both Associated Press Top 25 and USA Today Coaches Poll.
#RAZORFACT
Sophomore BOBBY PORTIS is the first player in program history to lead Arkansas is scoring the first four SEC games.
GAMEDAY #RAZORFACTS

GAME

 Arkansas (13-4, 2-2) vs Alabama (12-5, 2-2)

DATE | TIME

Thursday, January 22, 2015 | 6:00 P.M. CT

SITE | ARENA

Fayetteville, Ark. | Bud Walton Arena (19,200)

TV | VIDEO

ESPN2 & WatchESPN App

TALENT

Joe Tessitore (PBP), Sean Farnham (Analyst)

AUDIO

Razorback/IMG Sports Network

TALENT

Chuck Barrett (P-B-P) & Scotty Thurman (Analyst)

LIVE STATS

www.ArkansasRazorbacks.com

SOCIAL

Twitter | Facebook | Instagram

HASHTAGS

#Fastest40 | #WeHogs

STREAK

L2

LAST 5

3-2

AT HOME

10-1

STREAK

L1

VS. ALABAMA

29-28

NEXT UP

at Missouri (Saturday, Jan. 24)
@RAZORBACKMBB FAST BREAK FACTS
• One of five teams (BYU, Davidson, Gonzaga, Iona) nationally in the top 10 in scoring (T6th) and assists (T4th).
• Own a 3-2 record against teams in the top 50 of the RPI.
• 61-7 all-time at Bud Walton Arena under head coach MIKE ANDERSON.
• Averaging 87.1 points per game at Bud Walton Arena this season while being held below 80 just twice.
• Scored at least 40 points in 16 of 22 halves at Bud Walton Arena.
• Own an 11-0 record when forcing 15+ turnovers.
• Won 21 straight games when leading at the half.
• BOBBY PORTIS and MICHAEL QUALLS are the top scoring duo in the SEC at 34.4 points per game.
• Lead the SEC in scoring (82.9), three-pointers per game (7.5) three-point percentage (.388) and assists (17.9).
• Only SEC team to score at least 65 points in every game.
• Portis and Qualls have combined for 30+ points 12 times (9-3).
COACHING MATCHUP
@RazorbackMBB
Head Coach: Mike Anderson (Tulsa '82)
Record at Arkansas: 72-43 (4th Season)
Overall Record: 272-141 (13th Season)
Vs. Alabama: 1-4
Alabama
Head Coach: Anthony Grant (Dayton '87)
Record at Alabama: 111-76 (6th Season)
Overall Record: 187-101 (9th Season)
Vs. Arkansas: 6-3
SERIES HISTORY
Arkansas owns a slim 29-28 edge in the all-time series with 57 of the 59 meetings taking place since the Razorbacks joined the SEC in 1991-92. The home team has won 12 of the last 13 meetings while Arkansas is 14-6 all-time at Bud Walton Arena against the Tide. The last win by a road team in the series was Alabama's 79-68 triumph at Bud Walton Arena in 2012 while the Razorbacks have won seven of the last eight at home in the series. The two teams will meet just once in the regular season for just the second time in the last 24 years.
STARTING 5 QUICK 5 HITS
#00 | Rashad MADDEN (G)
• Only player in the nation averaging at least five assists (5.2) in under 25 minutes.
• Only player in the SEC averaging 10 points and five assists per game.
• Coming off a season-high 22 points against Ole Miss.
• Second in the SEC in assists (5.2) and seventh in assist/turnover ratio (2.0).
• SEC leader in free throw percentage (.908).
#04 | Jabril DURHAM (G)
• Arkansas is 7-2 in games he has started.
• Started eight of the last nine games.
• Second on the team with 39 assists with a 2.8 assist/turnover ratio.
• Went 3-for-3 from three-point range in the win over Dayton.
• Has led the team in assists three times.
#24 | Michael QUALLS (G)
• Second on the team and fourth in the SEC in scoring (16.1).
• Has nine 20-point games in his last 26 outings compared to one over first 55.
• Reached double figures in eight straight games, equaling a career-best.
• Arkansas is 12-2 the last two season when he has 2+ dunks in a game.
• Has appeared on the #SCtop10 nine times in his career.
#33 | Moses KINGSLEY (F)
• Started four of the last five games – first career starts.
• Second on the team lead with 15 blocks.
• Has grabbed 4+ offensive rebounds three times and is second with 25.
• Two double figure games equals his season total from 2013-14.
• Has a blocked shot in 35 of 49 career games.
#10 | Bobby PORTIS (F)
• Leads the SEC in scoring (18.1) and field goal percentage (.580).
• Post three straight double-doubles, averaging 24.0 points and 10.7 boards.
• Named to the Wooden Award Midseason Top 25.
• One of four high-major players averaging at least 18 points and 8.0 rebounds.
• Scored a program freshman record 35 points vs. Alabama last season at BWA.
PORTIS ON MIDSEASON WOODEN AWARD TOP 25
The SEC's leading scorer, sophomore BOBBY PORTIS was one of 25 players named to the Wooden Award Midseason Watch List. Portis is one of three players from the SEC on the list. The Little Rock native is one of just three high-major players in the country averaging at least 18 points and eight rebounds, joining Duke's Jahlil Okafor and Syracuse's Rakeem Christmas.
NIGHT TO REMEMBER
Last year against Alabama at Bud Walton Arena, BOBBY PORTIS broke the program's freshman scoring record with 35 points on 14-of-17 from the field in a 65-58 win. Portis scored 29 of the team's first 35 points, including 17 in a row, to help Arkansas snap a four-game skid against the Tide.