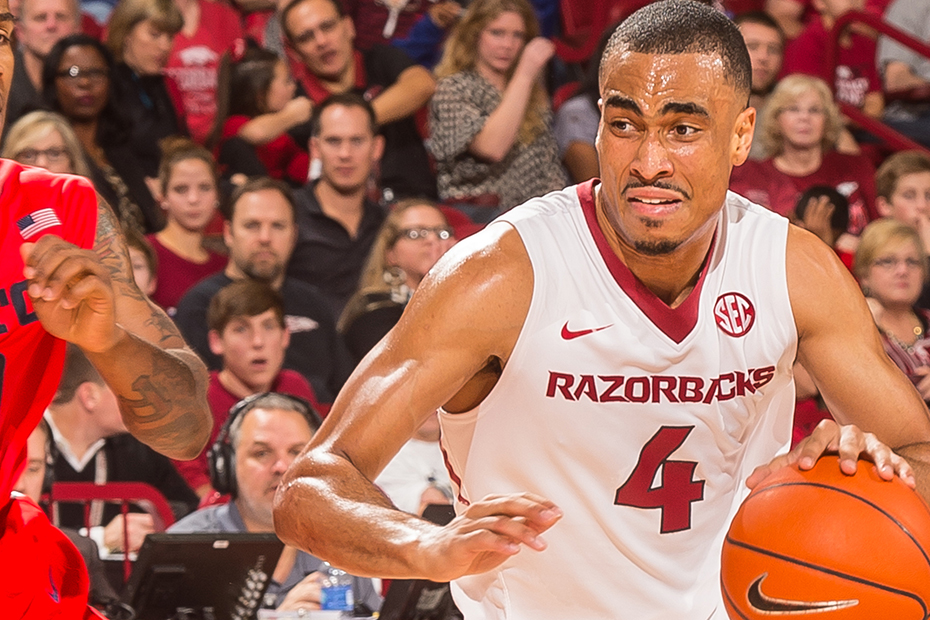 Arkansas Ready For First-Ever Meeting With Milwaukee
AT A GLANCE
Less than 36 hours removed from a win over Southeast Missouri in North Little Rock at Verizon Arena, Arkansas enters Monday's tilt against Milwaukee on a two-game win streak. The top scoring team (83.5) in the SEC and 12th in the nation, the Razorbacks are off to an 8-2 start through their first 10 games for the second straight year under head coach MIKE ANDERSON.
BOBBY'S IN BEAST MODE
Currently in the top 10 in the SEC in five different statistical categories, sophomore BOBBY PORTIS has taken his game to another level over the last four contests. Portis, who is coming off a season-high 24 points last game in his hometown, is averaging 19.8 points and 8.3 rebounds the last four games, shooting 65 percent (35-54) from the floor.
GAMEDAY #RAZORFACTS

GAME

Arkansas (8-2) vs Milwaukee (5-7)

DATE | TIME

Monday, December 22, 2014 | 8:00 P.M. CT

SITE | ARENA

Fayetteville, Ark. | Bud Walton Arena (19,200)

TV | VIDEO

ESPNU & WatchESPN App

TALENT

Brett Dolan (P-B-P) & Daymeon Fishback (Analyst)

AUDIO

Razorback/IMG Sports Network

TALENT

Chuck Barrett (P-B-P) & Scotty Thurman (Analyst)

LIVE STATS

www.ArkansasRazorbacks.com

SOCIAL

Twitter | Facebook | Instagram

HASHTAGS

#Fastest40 | #WeHogs

STREAK

W2

LAST 5

3-2

AT BUD WALTON ARENA

6-0

AT AT BWA UNDER COACH A

57-6

STREAK

W12

VS. MILWAUKEE

First Meeting

NEXT UP

vs. Northwestern State (Dec. 28)
#RAZORSTAT
Arkansas has won 23 straight non-conference home games, including 20 in a row at Bud Walton Arena.
@RAZORBACKMBB FAST BREAK FACTS
• Won 49 straight non-conference games at Bud Walton Arena against unranked opponents.
• Own a 23-game home non-conference win streak that includes three games at Verizon Arena.
• Averaging 87.8 points over 23-game home non-conference win streak.
• Off to an 8-2 start for the second straight year.
• Rank second in the nation in assists (19.3) and 12th in scoring (83.5).
• Scored 70+ points in 26 of the last 28 non-conference games.
• Held below 40 points in back-to-back halves just once on the year.
• Hold the early lead in the SEC in scoring (83.5), three-pointers per game (8.0), three-point percentage (.415) and assists (19.3).
• Eight different players have reached double figures.
COACHING MATCHUP
@RazorbackMBB
Head Coach: Mike Anderson (Tulsa '82)
Record at Arkansas: 67-41 (4th Season)
Overall Record: 267-139 (13th Season)
Vs. Milwaukee: First Meeting
Milwaukee
Head Coach: Rob Jeter (UW-Platteville '91)
Record at Milwaukee: 155-148 (10th Season)
Overall Record: Same
Vs. Arkansas: First Meeting
ONE-TWO PUNCH
Either junior MICHAEL QUALLS or sophomore BOBBY PORTIS has been Arkansas' top scorer in nine of 10 games this season. One of the two has reached the 20-point plateau in seven games, while they are just one of two duos in the SEC to both rank in the top 11 in scoring. Qualls and Portis don't just get it done on the offensive end, as they rank one and two on the team in rebounding, leading the way on the glass in the eight of the last nine contests. Below is a look at the top scoring duos in the SEC.
Program Points Per Game
Jarell Martin & Jordan Mickey LSU 32.7
KT Harrell & Cinmeon Bowers Auburn 31.6
Bobby Portis & Michael Qualls Arkansas 31.0
Damian Jones & Riley LaChance Vanderbilt 29.9
Levi Randolph & Ricky Tarrant Alabama 29.0
DEMANDING THE ROCK
A Wooden Award Preseason Top 50 and Oscar Robertson Trophy Watch List member, sophomore BOBBY PORTIS has become the focal point of Arkansas' offense and the team leader on and off the court. Portis has reached double figures in 13 of the last 14 games dating back to last year with double-digit field goal attempts in 12 of those contests. Portis, who is fifth in the SEC at 16.6 points per game, has scored 18+ points in four straight games for the first time in his career and is the first Razorback to do so since MARSHAWN POWELL during the 2012 non-conference. Over the first 30 games of his career, Portis scored 18+ points four times and took double figure shots on 10 occasions.
THIS DAY IN RAZORBACK HISTORY
Arkansas holds an 11-8 record on December 22, dating back to the start of the 1959-60 campaign. Monday marks the fifth time in the last six years the Razorbacks have played on this date, winning each of the previous four games. On Dec. 22, 1990, second-ranked Arkansas travelled to Eugene, Oregon and defeated the Ducks, 71-68, behind a combined 35 points from TODD DAY and LEE MAYBERRY. In 2006, PATRICK BEVERLEY (25) and SONNY WEEMS (18) combined for 43 of Arkansas' 68 points in a win over Oral Roberts.