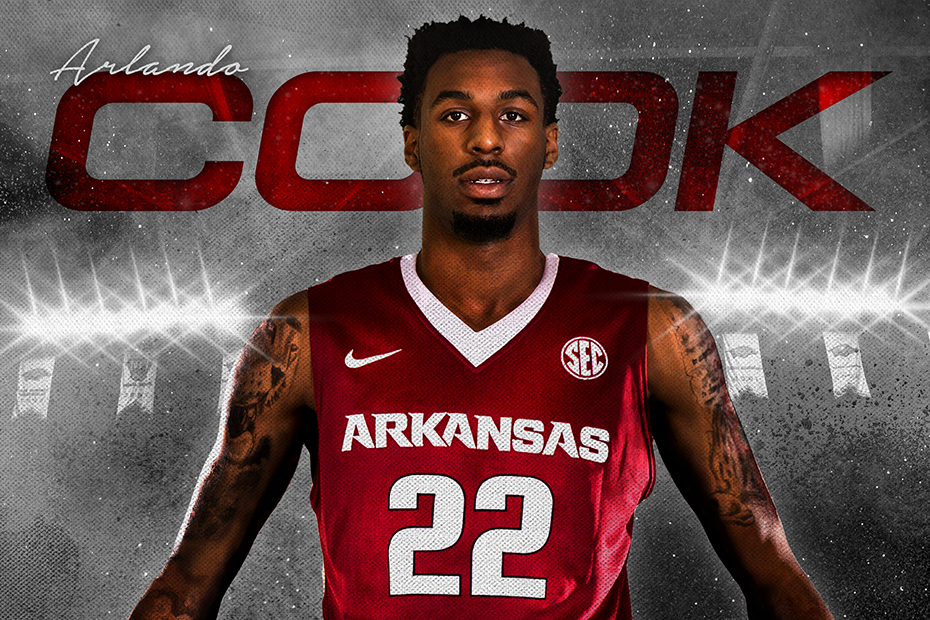 Arkansas Signs No. 5 JUCO Player In The Land
FAYETTEVILLE, Ark. – Arkansas men's basketball head coach Mike Anderson announced Friday that 6-8 forward Arlando Cook has signed a National Letter of Intent (NLI) to join the Razorbacks and will transfer from Connors State College for the 2016-17 season. Cook is ranked the No. 5 junior college transfer in the 2016 class, with a 92 percent composite rating by 247Sports.
At Connors State College (Okla.), Cook averaged 11.4 points and 9.3 rebounds, while shooting 57.2 percent from the field as a freshman, leading the Cowboys to a 33-2 campaign. He totaled 11 double-doubles, three 20-point games and 13 10-plus-rebound performances in 33 contests.
Cook had a career-high 27 points in a 90-82 win over Northeastern Oklahoma A&M on March 6 and a career-high 17 rebounds in an 87-66 win at Carl Albert State on Jan 22.
On the AAU circuit, he played for the Gym Rats in his hometown of St. Louis. As a high school senior at Madison Prep, he averaged 13.8 points, 9.3 rebounds and 1.9 blocks per game, while shooting 61 percent field goals.
Arkansas has now signed three of the top five junior college players in the country and prep star Adrio Bailey during the early signing period.
Coach Anderson on Cook
"Arlando is a versatile forward with size who we feel like can come in and make an impact in our program right away," said Anderson. "He's long, athletic, skilled, can really score the basketball, has excellent rebounding ability and plays lockdown defense. I love the versatility and experience Arlando brings to this class. He is certainly one of the best forwards in the country coming from the junior college ranks. He's instinctive, plays with a chip on his shoulder and we can't wait to have him wear the Razorback uniform next year."
For more information on Arkansas men's basketball, follow @RazorbackMBB on Twitter.