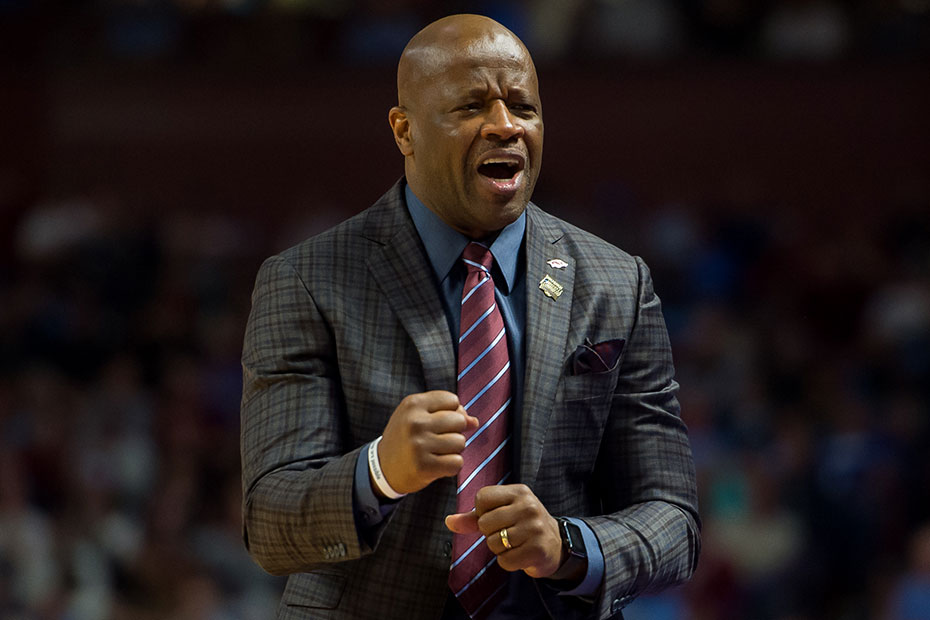 Arkansas Welcomes Samford For Season Opener
Game Notes | Tickets | Hype Video
FAYETTEVILLE, Ark. – The Arkansas men's basketball team will start its quest for three NCAA Tournament appearances in a four-year span on Friday evening, welcoming the Samford Bulldogs to Bud Walton Arena to open the 2017-18 season.
The season will officially tip-off at 7:01 p.m. CT with Brett Dolan and former Razorback Manuale Watkins providing the call on SEC Network Plus and the WatchESPN App, while Phil Elson and Matt Zimmerman will broadcast the game on the IMG Sports Network.
The Rundown
Opponent: Samford
Date: Friday, Nov. 10
Tip-off: 7:01 p.m. CT
WatchESPN: Click Here
Live Stats: Click Here
Tickets: Click Here
The Razorbacks in Season Openers
• The Razorbacks have won 43 straight home openers, including a 24-0 record in openers inside Bud Walton Arena.
• Arkansas has won 22 consecutive season openers and have opened the year in the win column in 44 of the last 46 seasons.
• Mike Anderson coached teams have never lost a season opener, going 15-0 with an average margin of victory of 16.5 points.
A Look at the Other Guys
• Samford posted a 20-16 record last year and reached the 20-win plateau for the first time in 11 years.
• The Bulldogs return 12 of their 13 players from a season ago, including 97-percent of their scoring production.
• Head coach Scott Padgett played two games in Bud Walton during his days at Kentucky, playing one minute in 1994-95, and adding 10 points in 26 minutes of action in 1996-97.
• Arkansas is 2-0 in the all-time series with Samford, but the two teams will meet in Bud Walton Arena for the first time on Friday.
The #Fastest40 Storylines
• Arkansas opens its 95th season of basketball in 2017-18 and the seventh under head coach Mike Anderson.
• The Razorbacks are one of three high-major programs in the country with at least six seniors on their team this season, joining Minnesota and TCU.
• Both teams Arkansas plays on opening weekend are ranked in the Mid-Major Top 25 poll, with Bucknell checking in at No. 6, followed by Samford at No. 20.
• Arkansas is picked to finish sixth in the SEC by the media and has finished higher than it was picked each of the last four seasons.
• The Razorbacks are coming off their best free throw performance in 55 years after shooting 76.1 percent from the charity stripe last season.
• Arkansas returns three of its top five scorers, 62 percent of minutes played, 59 percent of scoring and 53 percent of rebounding from last year's team.
• During the Mike Anderson era, Arkansas is tied for the fourth-most home victories in the country with 95. Arkansas is one of four teams with 95-plus wins and 15 or fewer losses at home over the last six seasons.
Ticket Packages
Season tickets, mini plans, mobile passes and single-game tickets for the 2017-18 season are available now at the Razorback Ticket Center by calling at 1-800-982-HOGS (4647) and online by clicking here.