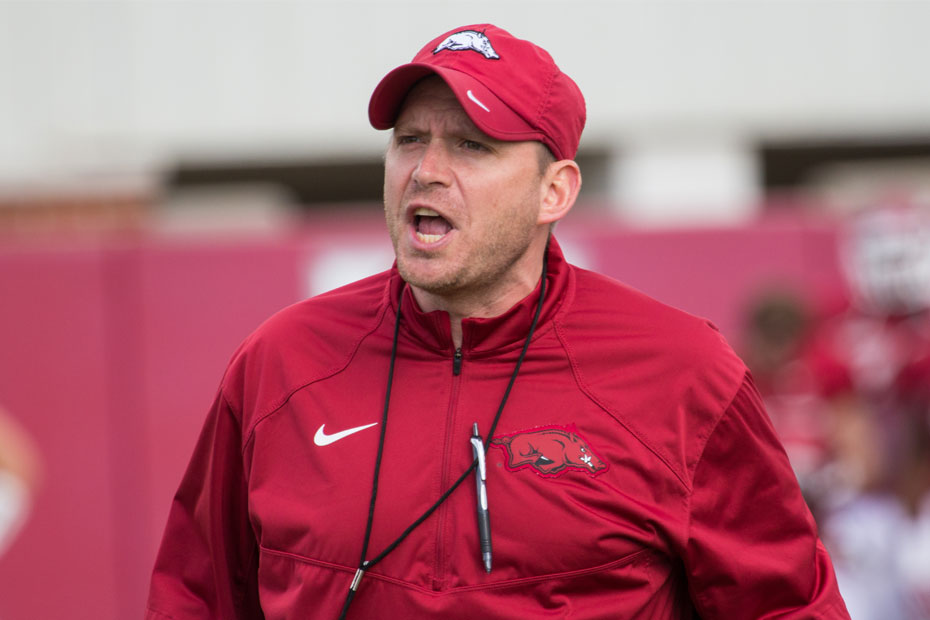 #HogsCamp Practice 11: The Goal Line
Tickets | SEC Nation | Coach Jennings Mic'd Up
Arkansas finished the 11th practice of fall camp this afternoon on an overcast day on the turf practice fields. The Razorbacks debuted several position and number changes and worked on goal line packages as they continue to get ready for the season opener on Sept. 5 against UTEP.
Three Takeaways
1. Earning It On The Goal Line
Today's practice included heavy emphasis on goal line packages and personnel. Last season, the Razorbacks were dominant defensively when opponents were on the verge of scoring, limiting the opposition to just 23 scores in 33 red zone attempts (69.7 percent). The percentage was fifth-best in FBS.
Both sides of the ball fought hard for small chunks of yardage that oftentimes determines the outcome of a game. The Razorbacks' depth on the defensive line proved to be valuable as the defense could trot out several bigs that were difficult to move off the line of scrimmage. The offense also made a few nice plays, utilizing play-action and size at tight end and wide receiver to keep the defense on its heels.
2. Position Changes
After Saturday's scrimmage, head coach Bret Bielema mentioned that a personnel meeting on Sunday would tell the coaching staff where they are at with several positions. We saw some results of that personnel meeting today, when a few players were lining up at new positions.
The most notable change was defensive lineman Anthony Brown moving to offense. A sophomore, Brown played in three games last year as a true freshman. With Arkansas' depth on the defensive line and Brown's athleticism, the team will take a look at him at fullback this week and see how it goes. Brown impressed this afternoon, catching several passes out of the backfield. He even scored a touchdown in goal line work.
The coaching staff also experimented with a few other players at different positions. Sophomore De'Andre Coley has been taking reps at linebacker while senior Mitchell Loewen has showcased his versatility, sliding inside for several reps at defensive tackle. Loewen has played numerous positions during his Razorback career and even started five games at tight end in 2013.
3. Number Changes
With new positions also comes new numbers. Brown's switch from defense to offense required him to be in an eligible number so he is now wearing No. 47. A few other numbers were changed for special teams requirements.
They include:
QB Rafe Peavey is now wearing No. 2
DB Reid Miller is now wearing No. 38
LS George Madden is now wearing No. 43
LB Josh Harris is now wearing No. 45
DL Armon Watts is now wearing No. 86
#HogsCamp Social Media
Work 💪 #HogsCamp pic.twitter.com/4t6FKB8mIx

— Razorback Football (@RazorbackFB) August 18, 2015