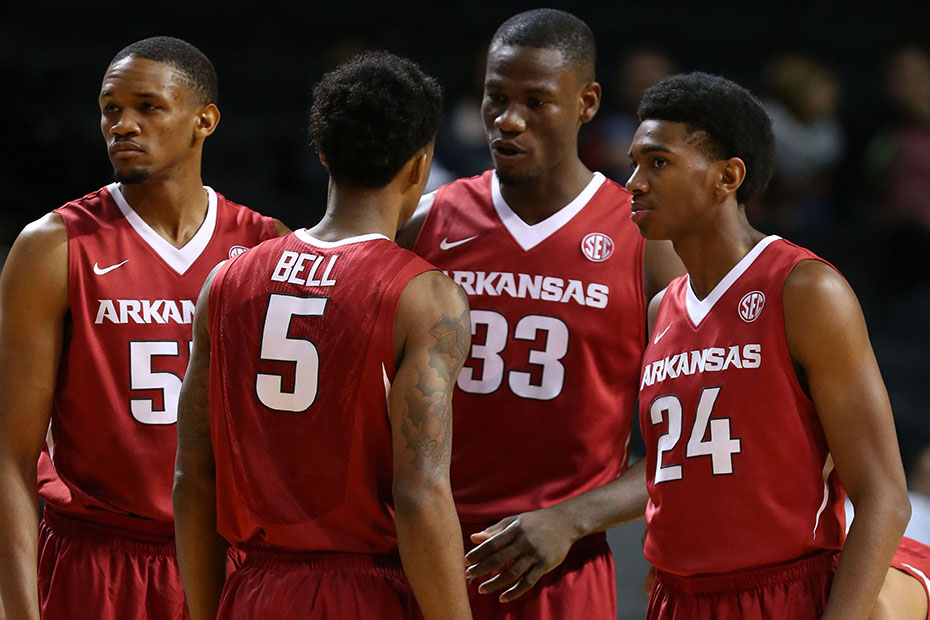 Men's Basketball Suffers Defeat at MSU
STARKVILLE, Miss. — Jimmy Whitt reached double figures for the second consecutive game, but the Arkansas men's basketball team fell at Mississippi State 78-46 on Tuesday night in Humphrey Coliseum. The Bulldogs held the Razorbacks to their lowest point total of the season, as they fell to 12-12 overall and 5-6 in SEC play.
Early on, it was neck and neck between Arkansas and MSU, as the visiting Razorbacks led 10-9 at the 14:17 mark of the first half. But the Bulldogs ensured that was the last lead for the visitors, as they ended the half on a 33-10 run to put the game out of reach. Moses Kingsley scored all four of his points in the first half, and was matched by Anthlon Bell.
Whitt came off the bench to play 20 minutes and led the team with 11 points, including nine in the second half. Also off the bench, Keaton Miles led Arkansas with eight rebounds and two steals in 16 minutes played. Trey Thompson had two blocks, his fifth game of that many or more rejections in the last 10 games.
QUICK HITS
• Anthlon Bell has hit a three-pointer in all 24 games this season.
• With four points, Moses Kingsley failed to score in double figures for the first time in 24 games this season.
• With only 10 turnovers, it was the 11th time this season Arkansas had 10 or fewer giveaways in a game.
• All 10 Razorbacks who appeared in the game scored at least one point.
• Arkansas had 20-plus offensive rebounds for the second time this season.
UP NEXT
Arkansas continues its Mississippi road swing this weekend, traveling to Oxford to take on Ole Miss at the brand new Pavilion. Tip-off is set for 1 p.m. CT on ESPNU.