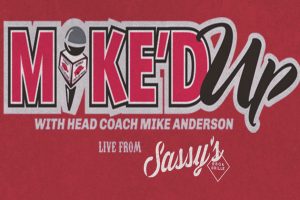 Mike'd Up Begins Monday; Bailey and Harris Join Program
FAYETTEVILLE – Mike'd Up, the radio show dedicated to University of Arkansas basketball, has the first of 12 shows for the 2018-19 season on Monday (Nov. 5) at 7 pm at Sassy's BBQ and Grille (Steamboat Drive off Wedington).
Featuring head coach Mike Anderson, co-host and Voice of the Razorbacks Chuck Barrett will also talk with junior Adrio Bailey and redshirt sophomore Jalen Harris.
The one-hour program gives fans an opportunity to interact with Razorback coaches and players while also getting an opportunity to learn more about the personalities they witness on the court.  Fans in attendance will also have an opportunity to ask the head Razorback their own questions. Fans wishing to attend the live show are asked to call Sassy's in advance to reserve a seat/table.
Mike'd Up can be heard across the Razorback Sports Network from IMG College across the state. A complete schedule of show dates is listed below with all 12 shows starting at 7 pm.
First six shows at Sassy's BBQ and Grille (Steamboat Drive off Wedington | call 479-435-6996)
Monday, Nov. 5
Monday, Nov. 19
Monday, Nov. 26
Monday, Dec. 3
Monday, Dec. 10
Monday, Dec. 17
Last six shows at Sassy's Red House (College Avenue | call 479-856-6966)
Monday, Jan. 7
Monday, Jan. 21
Monday, Jan. 28
Monday, Feb. 4
Monday, Feb. 18
Monday, Mar. 4