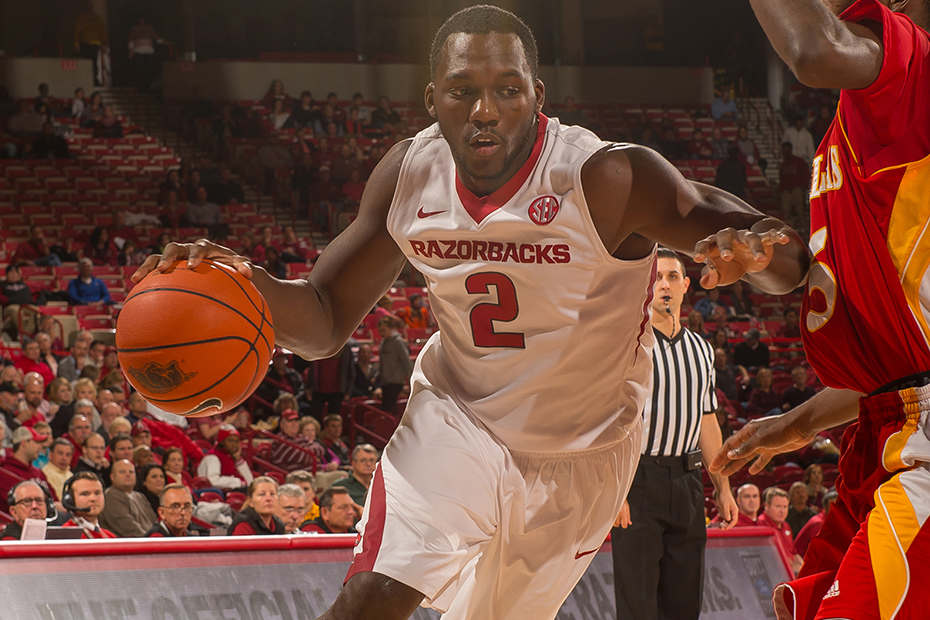 No. 25 Arkansas Ready For Road Test At SMU
AT A GLANCE
The top scoring team in the SEC and off to a 3-0 start for the third straight year, No. 25 Arkansas will head to Dallas for a non-conference showdown with former Southwest Conference rival SMU on Tuesday night. The Razorbacks will look to open the season 4-0 for the first time since the 2006-07 campaign and have won three of their last five regular season road contests dating back to last season. The Mustangs are Arkansas' most-common opponent in program history with Tuesday marking the 155th meeting. The Razorbacks have won 12 in a row against SMU, including the last six in Dallas.
RAZORBACKS IN THE NATIONAL POLLS
For the first time since November of 2007, Arkansas found itself inside the top 25 when the Associated Press poll was released on Monday. The Razorbacks came in at No. 25 and Tuesday will mark the first time in the last 225 games that the Razorbacks will be ranked in a contest. Arkansas is 378-101 (.789) all-time as a ranked team, including 103-48 on the road.
GAMEDAY #RAZORFACTS

GAME

Arkansas (3-0) at SMU (2-2)


DATE | TIME

Tuesday, November 25, 2014 | 6:30 P.M. CT

SITE | ARENA

 Dallas, Texas | Moody Coliseum (7,000)

TV | VIDEO

ESPNEWS

AUDIO

Razorback/IMG Sports Network

TALENT

Dave LaMont (P-B-P) & Bob Valvano (Analyst)

LIVE STATS

www.ArkansasRazorbacks.com

SOCIAL

Twitter | Facebook | Instagram

HASHTAGS

#Fastest40 | #WeHogs

STREAK

W3

VS. SMU

Arkansas leads, 95-59

STREAK VS. SMU

W12

NEXT UP

vs. North Texas (Nov. 28)
#RazorStat
Over the last two games, Arkansas has forced its opponents to commit 44 turnovers with only 44 made field goals.
@RAZORBACKMBB FAST BREAK FACTS
•Tuesday will be MIKE ANDERSON'S 400th career game as a head coach.
•Off to a 3-0 start for the third straight year.
•First time since 2004-05 Arkansas has won the first three games by 18+ points.
•Looking to start 4-0 for the first time since 2006-07.
•Won three of its last five regular season road games dating back to last year, but in search of first true non-conference road win since 2008.
•Own a 17-game home non-conference win streak.
•One of six unbeaten teams in the SEC.
OFFENSE
•First time since 1993-94 Arkansas has scored 83+ points in each of the first three games.
•Hold the early lead the SEC in scoring (93.0), three-point percentage (.521) and assists (23.0).
•Eight different players have reached double figures while a different player has led the team in scoring in each game.
•Held below 40 points in a half just one time this season.
•Out-scoring opponents by 13.3 points per night in points in the paint (120-80) and 13.7 bench points (102-61).
•Held below 70 points just once over the last 23 games at BWA.
•Averaging 89.2 points over 17-game home non-conference win streak.
THE #FASTEST40
•Last two opponents have a combined 44 turnovers and 44 field goals.
•Arkansas has forced its opponents into double-digit turnovers in four of six halves and at least nine in every half.
•Hold the early lead the SEC in steals (12.0), turnover margin (+9.0) and assist/turnover ratio (1.7).
•Sophomore MANNY WATKINS has eight steals in the last two games and is second in the SEC at 3.0 per night.
•Out-scoring opponents 93-42 in points off turnovers.
•Finished with a positive assist/turnover ratio in each game while no opponent has accomplished the feat.
•Scored 25+ points off turnovers in all three games.
•Won the turnover battle in 86 of 101 games under coach Anderson.
•Owned a 2-0 record when passing out 20+ assists while coach Anderson is 83-1 all-time when his teams accomplish the feat.
•Passed out 26 against Delaware State, good for the fourth-most under coach Anderson.
•Forced opponents into 20 turnovers 23 times (22-1) under Anderson, including all three games this season.
•Coach Anderson-led teams have over 4,000 thefts in his career.
COACHING MATCHUP
@RazorbackMBB
Head Coach: Mike Anderson (Tulsa '82)
Record at Arkansas: 62-39 (4th Season)
Overall Record: 262-137 (13th Season)
Vs. SMU: 3-0
SMU
Head Coach: Larry Brown (North Carolina '63)
Record at SMU: 44-29 (3rd Season)
NCAA Record: 221-90 (10th Season)
Career Record (ABA/NBA/USA/NCAA): 1697-1221 (40th Season)
ALL-TIME SERIES
Arkansas will make its first trip to Moody Coliseum since 1994-95 on Tuesday and enters the game with a 12-game win streak in the series. Over the 12-game win streak, the Razorbacks have won by double figures 11 times by an average of 20.7.
•This year marks the 92nd season of Arkansas men's basketball and the Razorbacks have squared off against SMU at least once in 74 of those years on Tuesday.
•Arkansas has won the last five meetings at Moody Coliseum.
•Senior ALANDISE HARRIS is the only Razorback to play at Moody Coliseum, making two trips with Houston during his freshman and sophomore campaigns. As a freshman, Harris went for 19 points and 11 boards at Moody Coliseum and last year, as a Razorback, scored a season-high 21 points against the Mustangs.
•Arkansas joined the SEC in 1991-92, so the last five meetings between the two sides have been non-conference tilts.
THIS DAY IN RAZORBACK HISTORY
Arkansas holds a 5-2 record on November 25, dating back to the start of the 1959-60 campaign. On this date in 1991, the No. 2-ranked Razorbacks opened the season and the Maui Classic with a 92-83 win over Minnesota. Arkansas was led by double-doubles from OLIVER MILLER (23 pts & 17 reb) and ISAIAH MORRIS (19 pts & 12 reb) while LEE MAYBERRY had 20 points and seven assists.