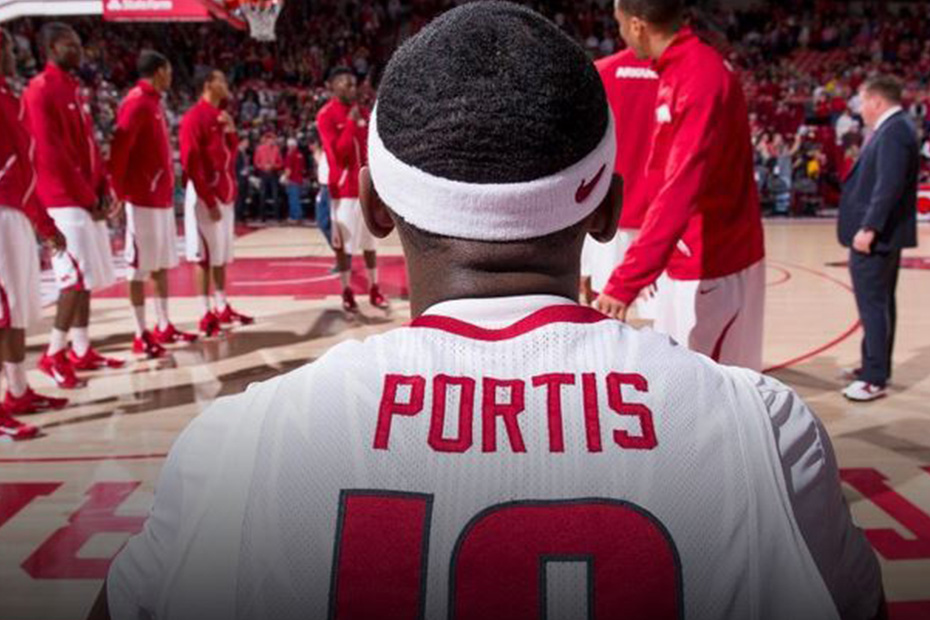 Portis Makes Wooden Top 20
LOS ANGELES, Calif. – A day removed from celebrating his 20th birthday by scoring 22 points in a win at Auburn, Arkansas sophomore Bobby Portis has been named to the newly-created Late Season Top 20 for the Wooden Award presented by Wendy's, announced on Wednesday on ESPN.com.
The SEC's leading scorer at 17.9 points per game, Portis is one of just eight players on the late season or midseason watch lists for the Wooden Award, Lute Olson Award and Oscar Robertson Trophy. The 20 players on the Late Season list will be discussed in depth on ESPNU on a half-hour show starting tonight at 5:30 p.m. CT.
Portis is one of six underclassmen on the list and one of two SEC players.
Portis was named the Naismith Trophy Player of the Week just prior to tip at Auburn on Tuesday after posting back-to-back double-doubles during a 2-0 week for the Razorbacks that also earned him NCAA.com Player of the Week recognition. After the opening week of SEC play, Portis was named the CBS Sports National Player of the Week and SEC Player of the Week.
The 39th annual Wooden Award ceremony will honor and reveal the Men's and Women's Wooden Award winners, and will include the presentation of the Wooden Award All-American Teams and the Legends of Coaching Award. The event will take place the weekend of April 10-12, 2015.
BP Quick Hits 
• Portis (17.9) and junior Michael Qualls (15.3) are the top scoring duo in the SEC at 33.2 points per game.
• Leads the SEC in scoring in overall games (17.9) and in league-only (19.3).
• Ranks in the top 10 in the SEC in seven categories.
• Averaging a double-double of 19.3 points and 10.0 rebounds in SEC play.
• Has eight doubles in 11 SEC games.
• Has nine 20-point games this season after one in 2013-14.
• Five of his team-leading nine 20-point games have come in SEC action.
• Reached double figures in a career-best 19 straight games.
• Reached double figures in a half 19 times (1st Half – 10, 2nd Half – 9).
• Averaging 19.0 points and 8.0 rebounds per game on the road (8 games).
• Has led Arkansas on the glass 17 of the last 18 games and 20 of 24 games on the year.
• Led Arkansas in both scoring and rebounding 13 times, including the last five.
• Ranks 22nd in the nation in offensive rebounds per game (3.5).
Three Of A Kind 
Portis is one of just three high-major players in the country averaging at least 17.5 rebounds and 8.5 rebounds per game entering Saturday's contest. Duke's Jahlil Okafor (18.0 & 9.1) and Rakeem Christmas (18.5 & 9.3) from Syracuse are the other two players.
BP Mode 
Currently the only player in the SEC in the top 5 in scoring (17.9/1st), rebounding (8.8/4th), offensive rebounds (3.5/3rd), defensive rebounds (5.3/5th) and field goal percentage (.564/1st), Portis became the first player in program history with 30 points and 10 rebounds in an SEC game against Vanderbilt with 32 points and 11 boards. Earlier in the year, Portis became the first player in program history to go for 18+ points and 7+ rebounds in six straight games since Corliss Williamson did during his sophomore season in 1994. He is also the fifth player to record multiple 30-point games in his career against SEC opponents, joining Todd Day (3), Jannero Pargo (3), Scotty Thurman (2) and Jonathon Modica (2).