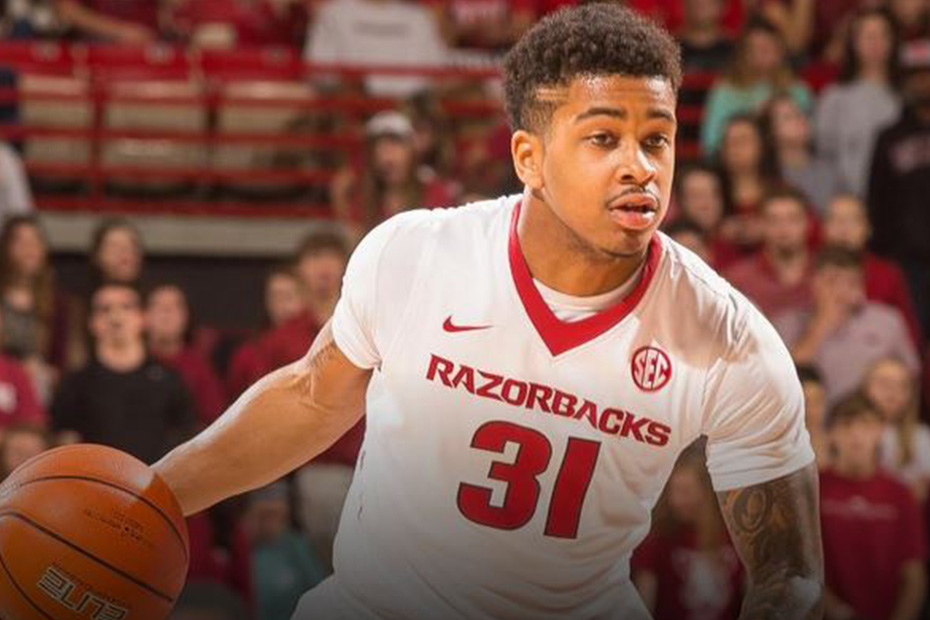 Razorback Basketball Returns Home To Host South Carolina On Tuesday
AT A GLANCE
Arkansas will open its final two-game SEC homestand of the season on Tuesday when it welcomes South Carolina to Bud Walton Arena. The Razorbacks will look to bounce back from a tough one-point loss at Florida on Saturday that snapped a three-game win streak. Saturday marked Arkansas' fourth straight game and sixth in SEC play that has been decided by five points or less.
• Arkansas (No. 21) is one of nine SEC teams in the ESPN RPI Top 60.
• The Razorbacks are one of six SEC teams tied for third place in the standings at 5-3.
• Arkansas leads the SEC in five categories, including scoring (80.4) & offensive rebounds (13.6).
• BOBBY PORTIS (17.7) & MICHAEL QUALLS (15.9) are the top SEC scoring duo.
• Portis has started the last four weeks of league play as the SEC's leading scorer.
• Head coach Mike Anderson is 63-7 all-time at Bud Walton Arena.
#RAZORFACT
Sophomore BOBBY PORTIS is one of eight players in the country on the Midseason Watch List for the Wooden Award, Oscar Robertson Trophy & Lute Olson Award.
GAMEDAY #RAZORFACTS

GAME

 ARKANSAS (16-5, 5-3) VS. SOUTH CAROLINA (11-9, 2-6)

DATE | TIME

Tuesday, February 3, 2015

SITE | ARENA

Fayetteville, Ark. | Bud Walton Arena (19,200)

TV | VIDEO

SEC Network | ESPN3 | WatchESPN App

TALENT

Dave Neal (PBP), Will Perdue (Analyst)

AUDIO

Razorback/IMG Sports Network

TALENT

Chuck Barrett (P-B-P) & Scotty Thurman (Analyst)

LIVE STATS

www.ArkansasRazorbacks.com

SOCIAL

Twitter | Facebook | Instagram

HASHTAGS

#Fastest40 | #BeatSC

STREAK

L1

LAST 5

3-2

AT HOME

12-1

STREAK

W2

VS. SOUTH CAROLINA

15-12

NEXT UP

Mississippi State (Saturday, Feb. 7)
@RAZORBACKMBB FAST BREAK FACTS
• Currently No. 21 in the ESPN RPI with three wins over the top 50.
• No. 7 seed in the Midwest Region in Joe Lunardi's most recent Bracketology released on Feb. 2.
• Rank in the top 20 nationally in points (80.4/11th), offensive rebounds (13.6/20th), assists (17.1/6th), assist/turnover ratio (1.4/17th) and turnover margin (+3.6/18th).
• Arkansas won its 300th game at Bud Walton Arena last time out at home and owns a 300-69 all-time record at BWA.
• Own a 4-2 record in SEC games decided by five points or less and have won three conference games after trailing at the half.
• First time since 1997-98, Arkansas had 16 wins in its first 20 games.
• Won 22 straight games when leading at the half.
COACHING MATCHUP
@RazorbackMBB
Head Coach: Mike Anderson (Tulsa '82)
Record at Arkansas: 75-44 (4th Season)
Overall Record: 275-142 (13th Season)
Vs. South Carolina: 2-2
South Carolina
Head Coach: Frank Martin (FIU '93)
Record at South Carolina: 39-47 (3rd Season)
Overall Record: 156-101 (8th Season)
Vs. Arkansas: 2-1
SERIES HISTORY
This season marks the first time Arkansas and South Carolina will meet twice in the regular season. The two teams split last year's meetings with the Gamecocks prevailing in the SEC Tournament. Holding a 15-12 edge in the all-time series, Arkansas is 8-3 against South Carolina at Bud Walton Arena taking the last three meetings.
ONE-TWO PUNCH
Either junior MICHAEL QUALLS or sophomore BOBBY PORTIS has been Arkansas' top scorer in 18 of 21 games this season, combining for 30+ points 14 times (11-3), 40+ in four (4-0) of the last seven and two 50-point performances. Both have finished in double figures 16 times while combining for 16 of the team's 19 20-point games. One of the two has reached the 20-point plateau in 13 games, while they are one of two SEC duos in the top 5 in scoring. Qualls and Portis don't just get it done on the offensive end, as they rank one and two on the team in rebounding, leading the way on the glass 19 times. Below is a look at the top scoring duos in the SEC.
                                                                Program        PPG      Mins Per
Bobby Portis & Michael Qualls           Arkansas       33.6      59.8
Jarell Martin & Jordan Mickey                LSU                32.4      69.9
KT Harrell & Antoine Mason                  Auburn           31.1      62.0
Stefan Moody & Jarvis Summers           Ole Miss         28.8      54.7
Danuel House & Jalen Jones                  Texas A&M     28.4      58.6
STARTING 5 QUICK 5 HITS
#31 | Anton BEARD (G)
• Made his first career start last time out at Florida.
• Averaging 9.5 points & shooting 7-of-15 from three the last four games.
• Reached double figures four times in SEC play after once in non-conf.
• Set season-bests for points (12) and three-pointers (3) at Tennessee.
• Has taken a team-high 12 charges.
#00 | Rashad MADDEN (G)
• Just the second Razorback in the last five seasons with 100+ assists.
• Eighth all-time in assists (306).
• Team leader with a plus/minus rating of +171 on the year.
• Second in the SEC in assists (4.8) and free throw percentage (.889).
• 32 points shy of 1,000 for his career.
#24 | Michael QUALLS (G)
• Scored a career-high 30 points against Alabama.
• Fifth in the SEC in scoring at 15.9 points per game.
• Tied for second in the SEC with eight 20-point games.
• Has 10 20-point games in his last 30 outings after one his first 55.
• Has appeared on the #SCtop10 11 times in his career.
#02 | Alandise HARRIS (F)
• Returned to the starting lineup four games ago.
• Had back-to-back double figure performances at Mizzou & vs. Tennessee.
• Two of his top three scoring efforts this season have come on the road.
• Went 7-for-8 from the field for 15 points during SEC road win at Georgia.
• Out of his 19 double figure outings at Arkansas, 12 have come off the bench.
#10 | Bobby PORTIS (F)
• One of three high-major players averaging 17.5 points and 8.5 rebounds.
• Leads the SEC in scoring (17.7) and field goal percentage (.563).
• Career-best 16 straight games in double figures.
• Owns six double-doubles in SEC play.
• Named to the Midseason Wooden Award Top 25.