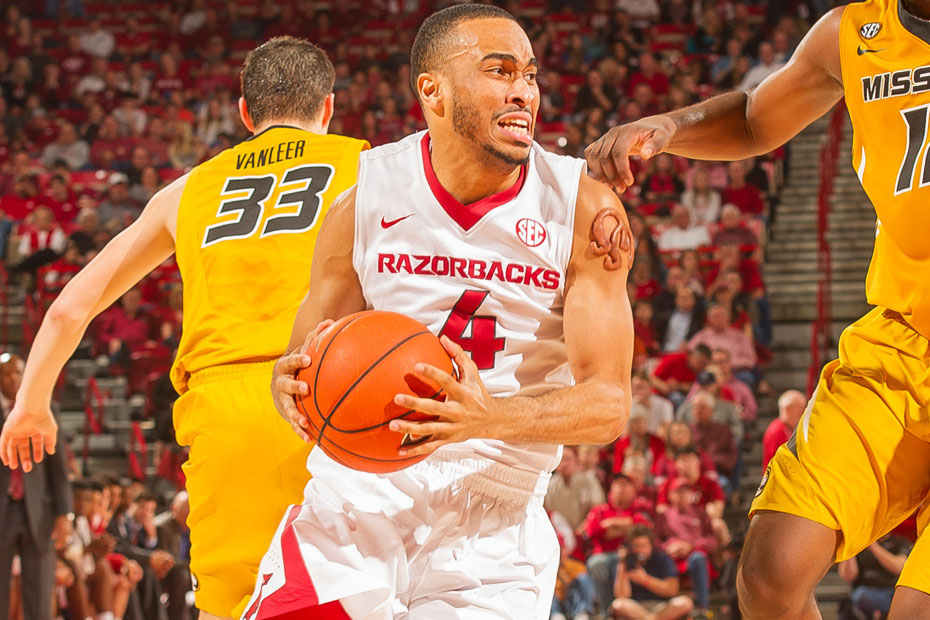 Razorbacks Raise Banner, Beat Mizzou
Box Score (PDF)  | Photos  |  Video
FAYETTEVILLE, Ark. — Framed around a halftime banner-raising ceremony to honor former head coach Eddie Sutton, the Arkansas men's basketball team never trailed and defeated Missouri by a score of 84-72 on Saturday night. With the win, Arkansas improved to 13-14 on the season, including 6-8 in SEC play.
Noted assist enthusiast Jabril Durham took on an increased scoring role and had a career-high 17 points, while still contributing a team-high six dishes. Dusty Hannahs led the Razorbacks with 22 points, going 4-for-9 from beyond the arc in the process of notching his 12th game of 20-plus points this year.
Moses Kingsley recorded his third-consecutive double-double with 15 points and a team-high 12 rebounds. His 14 double-double performances this season rank second in the SEC. Arkansas scored on its first possession and proceeded to lead for the remainder of the game. The Razorbacks went 10-for-24 from three-point range, the team's third performance of 10-plus made threes in a contest.
Durham began the game by lighting up the nylon, hitting a three-pointer nine seconds after tip-off, then proceeding to score eight points in the first 4:38. The Tigers followed with two layups to bring the score within 14-11, but that was the closest the visitors ever came. Hannahs led the team with 13 points in the first half.
While the backcourt was hot in the first frame, Kingsley flexed his muscles in the second. The Kareem Abdul-Jabbar Award finalist had 11 points and eight boards in the final 20 minutes, coming up with big baskets down the stretch as the Razorbacks extended their lead to as large as 65-48 with 8:18 remaining.
QUOTABLES
"I'm really proud of our guys and how they responded coming off a tough game. I thought we really came out and established defensively how we wanted the game to go. It started with Jabril coming out and knocking down a couple shots. Before you know it, we had a nice rhythm into the game." — Head coach Mike Anderson
"Losing is sickening. No one likes to do it, especially three in a row. Growing up here, it hurts. We just want to win for the state of Arkansas and for the Razorback program. Now we get to use this game to shoot us into the next four or five games leading up to the conference tournament." — Junior guard Dusty Hannahs
"Jabril is a senior and these are his last days. So every game, it's another game off of his career here at Arkansas. I thought he set the tone for us and that was big. They were leaving him wide open and he has to take advantage. He has to knock those shots down and he did tonight." — Head coach Mike Anderson
QUICK HITS
• Eddie Sutton's banner comes after he won 260 games in 11 seasons at Arkansas and made nine NCAA Tournament appearances, including the Final Four in 1978.
• Head coach Mike Anderson won his 99th game at Arkansas and 299th career contest.
• Jabril Durham had career-highs of 17 points and three three-pointers made.
• With 15 points and 12 rebounds, Moses Kingsley recorded his 14th double-double of the season.
• Dusty Hannahs leads the team with 12 games of 20-plus points this season. It was his first such performance since scoring 20 at Florida on Feb. 3.
• Hannahs tied a career high with six rebounds, including four in the first half.
• Anthlon Bell has hit a three-pointer in all 27 games this season.
• Keaton Miles started for the first time in eight games and tied a career high with four blocks.
• With seven turnovers committed, combined with six giveaways in Columbia on Jan. 12, the Razorbacks turned the ball over only 13 times in 80 minutes of play against Missouri this season.
• Arkansas had 47 team rebounds, its second-highest total in a game this season. The Razorbacks had 52 vs. North Florida on Dec. 22.
• Arkansas went 10-for-26 from beyond the arc, the team's third performance of 10-plus made threes in a contest.
• The Razorbacks recorded their fifth wire-to-wire win of the season.
UP NEXT
Arkansas returns to the hardwood on Tuesday, Feb. 23, hosting Ben Simmons and LSU in Bud Walton Arena. Tip-off is set for 6 p.m. on ESPNU. Click HERE for tickets.