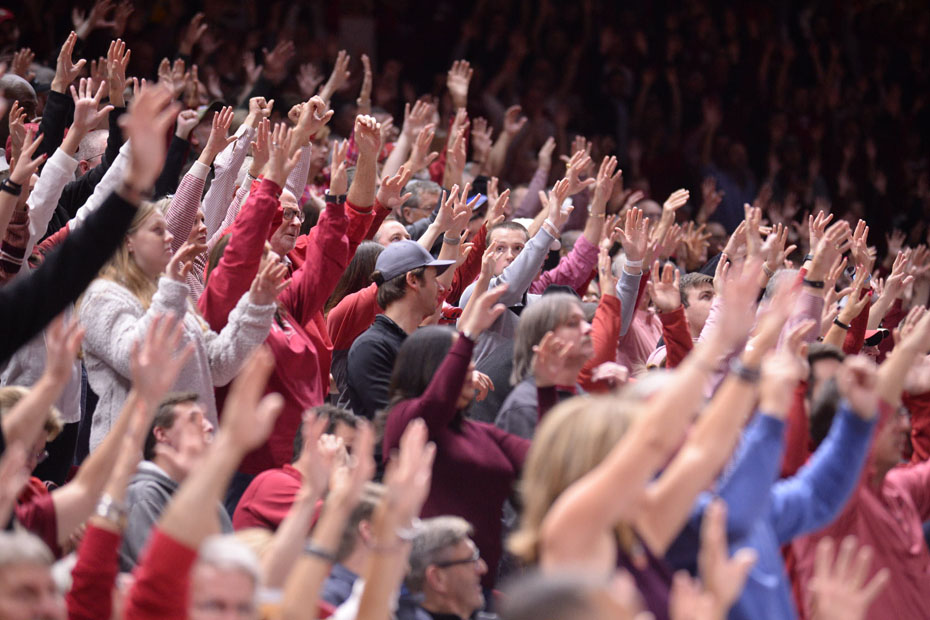 UA Students Can Give Back with Razorback Basketball
FAYETTEVILLE, Ark. – Giving back this holiday season is as easy as a few online clicks for University of Arkansas students. Razorback Athletics and the Associated Student Government (ASG) have teamed up to provide returned student tickets to area non-profit and charitable organizations to select Razorback men's basketball games over the holiday break.
Access Pass holders who are heading home for the holidays may donate their men's basketball seats back and Razorback Athletics will distribute to local organizations within the Fayetteville and the surrounding communities. Donating seats is easy as a click of a mouse and the entire process can be completed in less than a minute.
Students may click on the link below and give back their student admission to as many as three Razorback men's basketball games that will be played before the spring semester begins including:
Wednesday, December 19 vs. Georgia Tech – 8 p.m.
Saturday, December 22 vs. Texas State – 1 p.m.
Friday, December 28 vs. Austin Peay – 7 p.m.
Wednesday, January 9 vs. Florida – 7:30 p.m.
"Donating to those in need will also allow each and every one of us to consider how fortunate we are to be able to attend this amazing university, and cheer on the Hogs," ASG President JP Gairhan said. "This community has meant so much to me in my years as a student. I will always be thankful for the opportunities and friendships that I have developed here at the university. This is an opportunity for not only me, but for everyone to give back."
"Our students help give our men's basketball team a tremendous home court advantage at Bud Walton Arena," Vice Chancellor and Director of Athletics Hunter Yurachek said. "However, over the holiday break as many of our students travel home, we know that many may not be able to make all of our games. Through this partnership, our students can return the tickets they won't be able to use during the break to allow those in our community, who might not otherwise have the opportunity, to attend a Razorback game. It is a great way to give back while also helping ensure we have a passionate crowd to 'Call the Hogs' each time we take the court."
Access Pass holders can make their ticket donation now by clicking here.